| | |
| --- | --- |
| Mona's Meals | Sunday, 23 August 2009 | |
I'm going to start planning Japan, I told The Writer. I'm not coming, he replied, not even breaking visually from his book for a nano-second. OK then, I'll go on my own, I told the air.
Whenever I utter the famous last 'planning X country' words to TW he knows, because he knows me well, that I do not mean 're-organise their architecture and urban layout'. He is fully aware that it signifies packing, leaving, leaving Mrs. Mia Wallace at the grandparents, getting on an Emirates plane (I long stopped flying with anybody else long haul: if they don't go there, neither do I. For short-haul, I switch the criteria Air Malta) and going wherever the destination entails. It's an illness, and I have it big; considering I go abroad on my own all the time on 'the job that pays me a salary', I guess I have the bug big.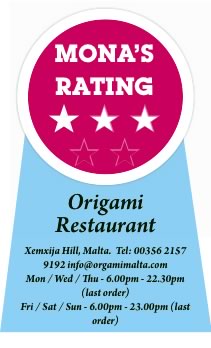 Having said that, maybe I should have waited until we got off the actual plane from Mauritius before I said the words; in coupledom, I'm not exactly a strategist.
For European and American foodies, Japan is the holy grail. The country and its chefs have long held a geisha-like aura of mystery for all of us. The greats, such as my hero Joel Robuchon credit it with changing their outlook on their culinary artistry forever. His Atelier Joel Robuchon, with its black and red lacquered layout, its minimalism and its sitting-at-the-bar-to-eat setup all comes from there.
In this month's GQ, which TW buys religiously (I suspect the lovelies on the cover have something to do with the purchasing habits), Heston Blumenthal, molecular cuisine god, writes extensively, and simply, about his trip to Tokyo. Michelin published its first ever guide to the city last year, awarding nine restaurants three stars each. In all of the UK, only three chefs have this accolade. Paris, once gastro-heaven, now generally acknowledged to be dying a slow and painful culinary death (Micky D's is always a good indicator: the one next to St. Germain de Pres is sadly always packed), has 10 three-star restaurants. In total, Tokyo has 227 stars; Paris has less than half that.
3 stars according to the Michelin guide, means "exceptional cuisine: worth a special journey". This is what I tried to explain to TW, even if our 'special journey' would entail 18 hours of flying, rather than a set of tyres. He seems to share the same attitude to the guide as Jiro Ono (the man who inspired Robuchon), 84 years old, and who, according to Blumenthal, when told he had been awarded 3 stars said 'he did not even know what the Michelin guide was'. Upon being told that 'it was French and the most prestigious guide in the world' his response was 'What are French people doing in my restaurant?'. He was outraged.
Since Japan the country is out of the question (for now, TW, for now!) we went its latest representation in Malta: Origami in Xemxija. The restaurant has been done up with an acceptable décor and even has a website. The menu link on it does not work. Having driven past it a couple of times, and having been slightly taken in by the chef's exhortations on-line that he was producing the 'genuine' thing, I dragged TW along.
The girls working the floor are lovely. There's a little Japanese one who looks like she's 12 years old but who is probably, judging by how long the Japanese live, 156. She's damn good. There is another girl, seemingly British. This is hard to decipher because she talked to us in a breathless, little-girl Jappo-British accent. It was like being in a Manga cartoon, only with less sex and violence. Their 'uniforms' are cool and they're both in minis.
Comparisons are odious but inevitable. I was pitting Origami with Asakusa in London (find the review for this on www.planetmona.com) where the soft-shell crab is to die for and where the udon noodles in broth so wonderful you want to put them in a thermos flask and slurp them all the way to Malta. At this rate you should: the menu at Origami lacks inspiration. It tries, hard, but still fails. The 'crab' is crab stick. Disgusting. 'Crab sticks' exist as much as fish digits do.
The choice of three appetizers out of five came in a sectioned square plate. Sectioned as in, 'in sections' rather than 'in a mental institution'. The 1cm dice of tuna were dull, the salmon ball dry and the marinated duck fabulous, soft and chewy.
TW enjoyed the beef tataki with ponzu sauce, which is basically raw cow, sealed in a fierce heat while in one piece, cooled later, sliced and spiced. He refuses to use chopsticks but his wielding a knife and fork was preferable to what his female neighbour was doing: she'd given up on everything and was literally heaving up the bits from her bento box using her fingers while taking her face to the box. The Japanese are very polite as a nation (and in my head, violent: I'm read too many Natsuo Kirino novels) but this obviously does not extend to British patrons of their restaurants in bikini tops.
[Quick Japanese eating lesson: lift the bowl to your face using your hand, not the other way 'round. Do not point chopsticks at people or use them to stab food with. Nod your head profusely at your host to signify pleasure (unless you're a critic and you're paying the host).]
Could I not have the roll with the sashimi platter, maybe have something else, I asked Ms. Manga. One quick trip to the kitchen later and a return bearing 'no sorry'. 'That's a little funny' I replied. So she went back and returned. 'Ok: chef will do you more salmon' she said. I was about to mumble that I'd have preferred the shrimp but just shut up. No, I did not bow.
TW's tempura was awful: the whole point of tempura is its lightness, the way it cocoons its superbly fresh contents with an airy crispness, distinguishing by shape. Japanese cuisine, like most Asian, is about texture, sometimes at the cost of flavour. Not only was this particular exemplar heavy and devoid of artistry, but at some point, the vegetables (mostly carrots and broccoli), along with the calamari rings and the shrimp had converged in the frier and created a huge ball of crumb. The only reason TW ate it was because he had no choice.
My sashimi turned out to be a very generous plate although as expected, there were only three shrimp: all sweet, glistening, lush and obviously very very raw. The salmon and tuna were not fatty, and fat, as any good Japanese sashimi chef will tell you, is the point. Otoro, the belly of tuna, attracts handsome prices at the market. Here, we export it because we don't know what the hell to do with it, to Japan and Korea.
I had to ask for soy sauce (which turned up, and turned out to be light and lovely) and the wasabi was a beautiful killer, the culinary equivalent of a Tarantino leading actress. Unfortunately, it was presented in a horrid, 'carved' raw marrow, an attempt at artistry which fell flat on its veggie face. The absolute best thing in the plate was 14 four-millimetre balls of red roe, aka caviar: they exploded quietly in my mouth and left me yearning for a trip to St. Petersburg and more. Jeez. Here I go again.
Origami are attempting to produce Japanese desserts and for this they should be lauded. Nonetheless it's a question of 'your best is not good enough': what we ended up due to some items not being available with was so odd that we could not figure it out: TW's mango puree atop a cucumber jelly was ugly to look, odd to view but subtle and acceptably refreshing to eat. My 'pannacotta' was just crazy: it came in a martini glass, so runny it could have done the Olympics, topped with an even runnier fruits of the forest sauce, both sitting over a disgustingly sweet inch of what seemed to be thick sugar and honey syrup. It left me with such a gag in my mouth, waking up after a night on the tiles would have been preferable.
'It's not that bad' I told TW as he lifted an eyebrow at me from across the table, nodding towards the dessert. 'Would you bring that out of a kitchen and present it to guests, let alone paying customers?' he spluttered. 'Um, no I wouldn't'. 'There, you have your answer then'.
What does all this mean? Dammit, it means that unless I win TW over with some other Japanese cuisine outing, then I could put a hold on any plans of going to Japan, that's what it means. Selfish? Me?
---
Any comments?
If you wish your comments to be published in our Letters pages please click button below.
Please write a contact number and a postal address where you may be contacted.
---


All the interviews from Reporter on MaltaToday's YouTube channel.
---
EDITORIAL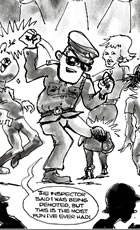 Conduct unbecoming
INTERVIEW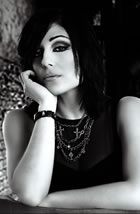 Ira comes of age

---
OPINIONS