| | |
| --- | --- |
| Mona's Meals | Sunday, 26 July 2009 | |
Last week a couple of readers wrote in to ask me why, since I had been putting up with constant screeches from my neighbour's Damien (from The Omen, duh) child, week in, week out, for the past two years, I did not consider a trip down the police station.
When I had stopped laughing I sat down and wrote the following reasons, which I will now humbly share with your good selves.
First, because it is utterly useless: I will go there and say "My neighbour's child is giving me headaches, heartache and a general ennui. I don't think I can handle life. I think I'm going to move because this has got to be so bad." And after they struggle to raise their head from updating their Facebook status update and checking what their friends are doing on Twitter, they will mumble "And so?"
The second reason is because it is utterly useless: last year, during one of the multitude feasts that our village, population 200, is blessed with, I called the police at 2.30am and said: "If you don't stop this crazy noise emanating from the 'wall of sound' which they have erected in the square, and which is making me cry and tear my hair out, then I will call XX (a high-ranking police officer) on his mobile, wake him up, and you will really get it for not doing your job, which is that of controlling this outrageous noise out of permit hours." And the reply of the very cool lady police officer who answered my call was: "Don't worry: you won't wake him up. Call him now; he's at the festa, supervising."
The third reason is because it is utterly useless: houses in my very old village sometimes back on to each other, yet you normally have no idea, from the inside, where the front door of the actual house would be. Some houses look like a tiny room from the outside then lead to four tumoli of land at the back. It's almost bizarre, and of course, very pretty. It also means that I could be living in Qrendi but the neighbours would have their front door in Għarb. And when you call the cops to report a neighbour, what do they ask for? Well, the address you dimwit. The police in my village do not actually investigate anything themselves: you have to find the information for them. They are there to stand around murder scenes and festa squabbles (during the festa marches, there are usually around 20 officers, some drinking beer).
So, if I call, they will ask me which door leads to this girl's house and I will not know. This will give them a choice of two answers: either to come to my house and climb up through my garden and into this girls' pool, which we all know is exhausting considering the heat and the quantity of nylon in their uniform. Otherwise, they will tell me to call back when I have an address. Why do I have the feeling it will be the latter? And that when I do, nothing will happen anyway?
And the final reason is because it is utterly useless: it's the usual Catch 22 situation. The police only respond to very serious call-outs. No serious call-outs happen in my village which is as sleepy as those in Gozo, only with fewer murders. But if the police did go out on something so trivial and Something Serious did happen, then who would go to the Serious Something? No one. They would be too busy reprimanding a five-year-old girl. So they sit at the station, and wait for the serious thing to happen. Or they go to the każin for a beer and a burger.
Ah food. I knew we'd come to that bit eventually. This week's restaurant is The Arches, a veritable bastion of culinary delights; an institution more entrenched in our society than the Depot. Ok, maybe not. But it's certainly a lot more fun. And your family will not be biting their nails if you go in, wondering if you'll ever come out.
The Writer and I went on a weekday and there was not a single Malteser in there. We're a lazy bunch, are we not? Mellieħa has to be worth the effort, and dammit, this really is. Now you know.
There are two menus: one is the regularly updated one, which, as we speak, is the summer one. Then there is also a kind of degustation, more of a set menu really. Four courses and coffee and petit fours cost a ridiculous €35. Fantastic.
This is because no matter what, how little or how much you eat, you will still get The Arches's unparalleled service. Since I last wrote about this restaurant, they have completely taken my suggestions on board - the uneducated waitress is now working somewhere where she does not have to interact with human beings). You will also get access to The Arches' incredible wine list: all two inches of it (that's depth, not height).
The main menu is simple and to the point: five starters, five mains, three signature dishes, and five desserts. That's perfect, and a huge improvement on their overtly-long winter one which seemed to pander to the lowest common denominator. My aim in life is to never have to choose anything ever again, to trust the chef so much that I leave the decision-making to him or her.
The chef here absolutely deserves to have that kind of right, to impose his tastes on me. He is very young but has been with The Arches for more than 20 years now. I saw him while we were there and it doesn't seem that the kitchen is ageing him. Giving him a degustation menu to develop is a show of trust in his capabilities. Then give him a huge bonus.
I ordered the cold poached lobster and although I am not a fan of this crustacean when it has been faffed around with, this classic execution left it fragrant, hinting of the sea which was once its home. It came with a saffron roulade - the modern, creamy version of the roly-poly - which could have benefitted from a little more of the spice, a lemon crème fraiche, and a ginger and mint-grilled squid, which was outrageously perfect in both texture and fragrance
TW was enjoying it all hugely: the escapes to the outside area for a fag consumed in comfort, the pretty waitress and yes, his kobe beef carpaccio, which came skipping happily with a mustard and honey glaze, roasted figs and an iced gazpacho. This dish is all about provenance and it proved itself over and over: kobe really is the queen of the bovine world. The Arches should put more of it on its mains menu.
The roast rack of lamb, like savoury lollipops roasted in thyme, was stunning in its simplicity, so juicy it dripped like the plums from our over-flowing tree in summer. Again, another example of if it ain't broke, don't fix it. I did not care too much for the chicken and porcini tortelloni, which were a case of trying too hard, but the wilted spinach was absolutely superb, a dazzling jewel green and everything a fresh leaf should taste like.
TW is not a 'fillet' kind of man. People who eat fillet mostly do so because it's safe and they think it's posh. And they can pronounce it. Over the years he has let go of all his prejudices and mental constraints so that the only thing he still refuses to eat is oysters. Yet here he choose The Arches' summer version of surf 'n' turf: the medallions of beef fillet with scallops grilled in tarragon, an avocado cream, some pumpkin crusted with pumpkin, baby leeks and pont-neuf potatoes (which he did not really like, due to their boredom-inducing factor). The combination was mind-blowing.
Overall, the attention to detail and the passion that is being exhibited by this particular kitchen is just spot on. We felt as if the chef is constantly making discoveries and loves the fact that he can share them with the diners. In other words: it's a posh place, but it still feels very homely.
Slightly puffy around the belly-button area from so much food, and terribly wobbly from the wine, it was still impossible to say no to the Arches's desserts. I have noticed a wonderful mix of sweet and savoury in the new menu and TW did too, which is why he went for the roasted pears with manchego and black pepper, a ricotta parfait and caramelised bell peppers. Sounds slightly odd but works beautifully. Consider how many times pears play second fiddle to meats: here it is the main man and the peppers and cheeses its minions.
For some odd reason I went for the raspberry crème brulee, possibly the most boring item on the menu. Nonetheless, it was fantastically creamy, its direction classically tweaked about. The coconut cannoli which accompanied needed a bigger kick from the nut but otherwise worked.
The Arches is bigger than the sum of its parts, the dishes as written much less than what turns out to be, no holds barred, a fantastic, culinary night out. It has shot right to the top of my radar and I have the feeling it will stay there for quite a while.
---
Any comments?
If you wish your comments to be published in our Letters pages please click button below.
Please write a contact number and a postal address where you may be contacted.
---


All the interviews from Reporter on MaltaToday's YouTube channel.
---
EDITORIAL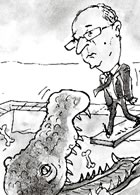 Taking the fall
---