| | |
| --- | --- |
| Interview | Sunday, 26 July 2009 | |
Resigning after more than 10 years as PN president was not an easy decision, but once taken, Victor Scerri admits he feels "relieved" of the pressure mounted on him because of the post he held until last Tuesday.
He says he is determined to face his accusers and take them to task on all that was alleged about his choice to purchase a plot of land in Bahrija, with the scope of developing a "dwelling" on the footprint of an existing but derelict two-storey farmhouse.
"It's not that I had no choice, but it was difficult for me to counter the campaign mounted against me while I still held my post as PN President," Victor Scerri insisted, rebutting claims that he was "pushed" to resign in a bid to avoid any embarrassment to Prime Minister and Party leader Lawrence Gonzi.
"As a private citizen I am now in a better position to initiate my fight to defend and clear my name from all the nonsense and lies that were told so far," he said, as we walked and talked through Republic Street in Valletta before entering a café and formally start the interview.
On our way there, Victor Scerri – who turns 44 next Wednesday – was stopped numerous times by passers-by who expressed solidarity with him as they shook his hand. His replies to them became a cliché: "I will fight to the very end," he said.
So once seated comfortably in an air conditioned environment, Victor Scerri pulls out a file from his case and shows me a series of pictures taken at the controversial site in Bahrija. "This is what the whole issue is all about," he tells me while flipping through the pictures of the decaying building in the middle of pristine Bahrija.
The photographs show an old, abandoned and derelict stone structure surrounded by rubble and some vegetation. The place is split on two floors and part of it has collapsed over time, but the crucial question is this: surely he knew that Bahrija was an ecological sensitive site, which is why his first application in 2000 was refused, being located in "an area of archaeological and ecological importance and within a site where no physical development is allowed."
"Yes obviously, Bahrija is and will always be a sensitive site, and I knew this from the very beginning. However my intention was never to ruin the place but rebuild what is already existing in derelict form and most of all, take care of the area.
"I am not interested in swimming pools or any fancy villa. In fact I have consulted with agricultural experts on the possibility of cultivating an olive grove," he explained, adding the question if somebody could give a clear definition of "villa".
He also bought the land from Eliza Company Limited, some of whose shareholders have been convicted for theft of precious items, this very week. They have also been involved in a fierce land tussle with the farmers in Bahrija.
"I bought the land from a company through the bank, who was present throughout all the transfer procedures as it was still bound by hypothec and the shareholders owed money to the bank over it," he explained, while adding that he has absolutely nothing to do with Eliza Company shareholders.
Victor Scerri repeats that in all the issue, he has always been legally and morally correct and that he will definitely not shoulder the responsibility for the mistakes of others.
So who made the mistake? Was it Victor Scerri who applied for a development permit, or MEPA which granted the controversial permit, which the MEPA auditor this week said should have not been issued?
"Since the initial stages of the application in 2000, I was hardly involved in any discussions. The matter was usually dealt with by my architect, Robert Musumeci, and through the years, things took their normal course, with reconsiderations, approvals, amendments and clarifications. The permit was then granted in 2007.
"Now that the MEPA auditor says the permit should have never been granted, is it I (the applicant) who should shoulder the responsibility for MEPA issuing it to me? …obviously not!" he stressed, adding that he has now instructed his lawyers to sue MEPA over the whole issue.
Holding a copy of the MEPA auditor's report, Victor Scerri says that while the report clearly holds the former development control commission (DCC) board members responsible for issuing the permit, he criticises the same auditor over what he defined as "conjectures" in the same report.
Victor Scerri asks why the MEPA auditor failed to indicate that it was he (Scerri) who wrote to the Commissioner of Police asking him to initiate investigations to determine if any illegality was committed throughout the process.
Worse still, Scerri points out that so far, more than a month since he wrote to Commissioner John Rizzo, no investigator has sent for anybody to be questioned about the case.
I confront Victor Scerri with the MEPA auditor's comments in the report where he alleges collusion between the applicant, directly or through third parties, with one or more members of the DCC.
Victor Scerri immediately repudiates this, and insists that the auditor simply "assumed" and created doubts when all the process was transparent over the nine years it took to issue the permit. "The MEPA auditor was frivolous in his comments to the extent that he says that "unfortunately the practices of the DCC members in meeting developers behind closed doors can easily lead to suspicions of improper actions, although there are no records in the files of such meetings having taken place in this case…"
"How absurd could such a comment be? The auditor has the brief to investigate irregularities. So if he investigated and found no evidence why would he dare state such an absurd conjecture?" Victor Scerri asks.
So was Victor Scerri's decision to resign spontaneous, or triggered by comments made by the Prime Minister about the case last Sunday, calling on him to make the 'morally correct decision'?
Scerri insists that it was a decision he took after having toyed with the idea for at least 10 days before.
Last June, the Prime Minister said that if it transpired that the Bahrija permit was issued irregularly, "then the person involved should shoulder the responsibility and resign."
The Prime Minister spoke again last Sunday, this time placing the onus of tenability of office on Victor Scerri's lap, after the MEPA auditor was quoted saying that the permit the authority granted for Scerri's application was irregular because it failed to abide by its own policies.
On his part, Scerri denies having succumbed to any internal pressures from within the party to resign.
However while explaining that his rapport with Lawrence Gonzi is "good", he just cannot be bothered about who is next to shoulder the political responsibility over the whole matter.
And yet he knows the Prime Minister is politically responsible for MEPA, but he is still considering suing his office over MEPA. Doesn't he see the implications of this, politically? What should the Prime Minister do now?
"I don't know, it's not my choice, I'm not in politics anymore…" was his answer, practically returning to sender the initial indication of the onus of tenability of office.
"As I said earlier this week, the ball is now in the MEPA chairman's court and the Prime Minister's. They should take the necessary decisions, and I will not shoulder responsibilities that are clearly not mine," he insisted.
When asked about his encounters with Lawrence Gonzi about the issue, Victor Scerri is intent on making a distinction: "As president of the PN, I speak to Gonzi as party leader, not as a prime minister. I have nothing to do with government."
He admits that he had not spoken to Gonzi about the matter until earlier this week, and was delighted to know that the PM held his integrity in high regard.
Victor Scerri was cautious in his replies to questions as to whether he feels the attacks against him could have come from within the PN itself.
"I believe it was Labour leader Joseph Muscat who initiated the attack at the height of the June 7 European elections; others then picked it up and distorted it by putting me and my family in the firing line," he replied.
Scerri steered clear of putting himself at par to the situations that have caused rifts in the PN, following claims of insider attacks suffered by John Dalli, Jeffrey Pullicino Orlando and Jesmond Mugliett.
He eventually replied by saying that "so far" he doesn't have any "indication" that the issue may have been instigated from within the party.
Defiant on all fronts, Victor Scerri also talks about the offence taken by environmentalists for his remarks about alleged "mob rule."
"I never accused the NGOs of mob rule. Far from it…"
Scerri explains that his "mob rule" remark was intended for those who carried placards on his site, with messages that were personal, and directly aimed at insulting him, and intended to put pressure on authorities over something that was perfectly legal, once the permit was granted.
"It is definitely not in my style to attack NGOs. I always believed that they were and will remain an instrumental tool in a democratic society, however what I am concerned about is the fact that some people try to mount unnecessary pressure on the Prime Minister, and that is mob rule," he said.
When asked to qualify this statement, Victor Scerri explained that the environmental groups that participated in the protest on his site made incorrect statements that were reported by the press.
One gross incorrect statement he said, was that the site was a "simple two-room structure" when – according to Victor Scerri – whoever goes there could see that the site is a derelict six-room farmhouse, which rose to two storeys in certain parts.
"I insist that my application way back in 2000 was to demolish and replace the structure on the same footprint, no more and no less…"
But there is also a little bit more to that footprint…
"Well, all we did was ask for an extension of two bedrooms, as the place has two bedrooms and we have three children," he said. "That point was explained to MEPA as per normal practice and MEPA considered it and approved it."
So this is where the footprint increased from 134 square metres to 198? "Yes, the application was filed in 2006 and the permit was granted last year. We were given permission for an extra bedroom upstairs, and another downstairs…"
But the MEPA auditor has said this week that the last permit should have never been issued…
"That is a matter MEPA has to look into and it is definitely not something I should shoulder. They granted the permit, now they face the music, I did nothing wrong…"
And what about the extensive excavation works?
"Here too, why should I be pressured about this, when MEPA itself asked me to dig deep to hold a cistern? They insisted I excavate, I did so, besides I had to widen a little bit due to the clay foundations found in the area."
Victor Scerri remains adamant and insists that he will fight on to clear his name from any misconceptions that one may have arisen in the wake of his choice to purchase land in Bahrija and develop his family home there.
"Now that I am an ordinary citizen I can do it, and I will fight primarily to clear my name and secondly to uphold my rights as a citizen too," he said.
So what becomes Victor Scerri's political career now?
"I am no more the PN President. So far I have insisted that this is definitely not an 'adieu' but a clear 'au revoir'."
Victor Scerri was and still is a PN candidate on the Fourth and 11th electoral districts, and his intentions are still highly political.
---
Any comments?
If you wish your comments to be published in our Letters pages please click button below.
Please write a contact number and a postal address where you may be contacted.
---


All the interviews from Reporter on MaltaToday's YouTube channel.
---
EDITORIAL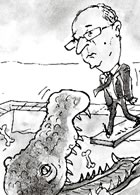 Taking the fall
---