| | |
| --- | --- |
| Film Review | Sunday, 26 July 2009 | |
How do you top a legend that's bigger than you; how do you live up to and exceed a spiral of success that you couldn't help but generate, through will, grit and a healthy wallop of guts? The answer is, more often than not (especially in Hollywood): you don't. Ever. The much-touted fickleness of the movie-going, pop-culture-consuming public is only accurate to a point. What we truly like, we tend to clutch to our bosom, perhaps as defence against a morass of mediocrity, the neon-glittering sea of (increasingly digital) stars and the features they populate, their incessant hatching a deafening, blinding spectacle. In our history with popular culture, we tend to remember the Titans. If the aftermath of Michael Jackson proved anything, it's that being monumental does in fact matter: people listen to scope, they are sensitive to impact (particularly when you consider that 2008 was a year riddled with celebrity deaths). We made Jacko our own: at best a friend, at worst a fond memory, a collection of amusing anecdotes and rhythmic nuggets of pleasure that we can return to, absorb, enjoy and escape with. We did the same for Borat. Not to downplay Sacha Baron Cohen's first creation - Ali G - but the feature film was a big mistake, we all know that. In a perfect illustration of the 'if it ain't broke, don't fix it' dictum, Ali G Indahouse suffered greatly from to the decision to eschew the mockumentary format that was a staple of the highly successful HBO television series. It took a few years, but when Borat hit the screens in 2006, that much remedied. The success can be attributed to a variety of factors - Cohen's effortless comedic bone (for once, claiming Peter Sellers as an influence didn't sound laughable), the brazen political incorrectness of the characters - but suffice to say that the film, and by extension Cohen, was declared a sensation practically before it had even hit the screens. Arguably, Cohen's coterie of delightful freaks were an instant success because we needed somebody to make fun of political correctness from a variety of angles. One should not forget Cohen's privileged status as an English Jew: it cancels out any danger inherent in Borat's anti-Semitism, just as both Borat and Ali G's misogyny is undercut by Bruno's flamboyant homosexuality. The pitch may be the same, but the tune is different: Bruno might give us a different angle to what Borat or Ali G do, though the template remains the same. Borat fixed the problems in Ali G's big-screen outing, so Bruno can now come out to play. But does simply reshuffling the packaging make for a satisfying film?
You almost forgive the script's repetitive nature because the filmmakers are so brazen about it that it exudes a devil-may-care, even self-mocking attitude towards the whole thing. The rudiments of the plot are basically the same as that of Borat: Bruno travels to America (making brief stops to the Middle East and further south of Africa) to become famous after he is fired from 'Funkyzeit', the uber-fashionable fashion show he presents in Austria. There he puts himself and his unsuspecting victims through a series of embarrassing ordeals (often involving his penis in some way or other), before learning to appreciate the simpler things in life. But like God, the real smut (and, in this case, the real comedy gold) is in the details, and the belly laughs are many. Borat had a political richness, and his bumbling innocence was truly worthy of Peter Sellers. Bruno, on the other hand, is barbed and shallow, and the gags are cringe-inducing simply because they're gross or sexually inappropriate, not necessarily because they unsettle the status quo. Still, there's a devilish irresistibility to naming an adopted (really, kidnapped) black baby 'O.J.', and announcing as much in front of a homogenously African-American studio audience, and in challenging the motives of a self-styled Christian 'gay converter'. It all works. But the sting is gone.
---
Any comments?
If you wish your comments to be published in our Letters pages please click button below.
Please write a contact number and a postal address where you may be contacted.
---


All the interviews from Reporter on MaltaToday's YouTube channel.
---
EDITORIAL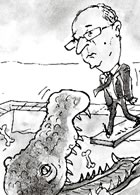 Taking the fall
---