| | |
| --- | --- |
| News | Sunday, 07 June 2009 | |
Karl Stagno-Navarra
Labour leader Joseph Muscat yesterday cast his vote together with his wife Michelle in his hometown Burmarrad, expressing his satisfaction that the electoral campaign was "very civil", and that all sides did their best to put their arguments across and convince the electorate on the choices they had before them.
Asked how he responded to criticism of his campaign being based on domestic, rather than European issues, Muscat said "the truth was that whatever is local is European", and that Labour could not ignore the issues the Maltese were talking about.
"If there is a concern on the people's minds, then that concern must be addressed."
The Muscats were greeted at the polling station by Chief Electoral Commissioner Edward Gatt. A crowd of cameramen, photographers and journalists thronged the main gate to the polling station, a room belonging to the MUSEUM which incidentally, was where Muscat went for catechism classes as a child.
MEP hopeful Kirill Micallef Stafrace was also in the area, and shook hands with Joseph Muscat. It was a first time for voters in Burmarrad to witness the media in their town, that totals approximately 250 voters, and had only one polling booth with one ballot box.
---
Any comments?
If you wish your comments to be published in our Letters pages please click button below.
Please write a contact number and a postal address where you may be contacted.
---


All the interviews from Reporter on MaltaToday's YouTube channel.
---
EDITORIAL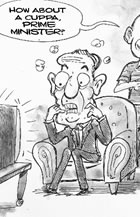 Tremors of unease
---
---