| | |
| --- | --- |
| News | Sunday, 07 June 2009 | |
James Debono
An exit poll conducted by telephone yesterday by MaltaToday reveals that incumbent Louis Grech, former Labour MP Joseph Cuschieri and economist Edward Scicluna start as favourites to take Labour's three seats.
Joseph Cuschieri, who gave up his seat to enable Joseph Muscat to become Opposition leader, seems well poised to become one of Labour's three MEPs.
Incumbents Glenn Bedingfield, who was elected MEP after Muscat resigned his seat, and John Attard Montalto seem they will have to fight to retain their Brussels posts.
Cuschieri has seen his support peak in the last two weeks of the campaign, MaltaToday surveys showed.
Altogether, MaltaToday's exit poll seems to confirm results from its last three surveys in the past two months showing Simon Busuttil ahead with the popular Nationalist vote, followed by Labour incumbent Louis Grech, Cuschieri and star candidates Edward Scicluna and Marlene Mizzi.
On the other hand, Nationalist MEP Simon Busuttil takes the mammoth share of the PN's vote and his second preferences are likely to determine the second Nationalist MEP, which is so far held by David Casa.
In this exit poll, Alternattiva Demokratika chairperson and candidate Arnold Cassola garners 4% of the vote – less than half the 9% share he actually got in 2004. It means Cassola's battle for a possible sixth seat will depend on the second preference votes that will follow from elected candidates.
The last MaltaToday survey conducted among 700 respondents showed Labour moving towards an absolute majority of 51.2%, the PN at 42.1% and AD at 5.5%.
Which candidate did you vote for? (%)

Simon Busuttil 34.5
Louis Grech 15.8
Joseph Cuschieri 10.1
Edward Scicluna 9
Marlene Mizzi 4.5
Arnold Cassola 4
C. Abela Baldacchino 3.4
John Attard Montalto 2.8
Frank Portelli 2.8
David Casa 2.3
Candidates with less than 2% are not listed
---
Any comments?
If you wish your comments to be published in our Letters pages please click button below.
Please write a contact number and a postal address where you may be contacted.
---


All the interviews from Reporter on MaltaToday's YouTube channel.
---
EDITORIAL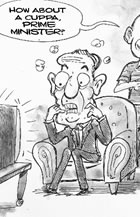 Tremors of unease
---
---