| | |
| --- | --- |
| News | Sunday, 07 June 2009 | |
A Nationalist electoral agent suffered light injuries yesterday in an argument outside the Zejtun polling station, police said.
The incident broke out after PN electoral agent Joe Brownrigg informed a police sergeant inside the Carlo Diacono school to escort a man who was loitering inside the polling station.
The man, Edwin Bartolo – a once bodyguard of former prime minister Karmenu Mifsud Bonnici, known by the moniker 'il-Qahbu' – was sitting down on a bench in the middle of the schoolyard. He was calmly escorted out of the school by a police officer.
At 3:15pm however, electoral agents Joe Brownrigg and Grezzju Bondin were seen standing outside the 50-metre boundary. According to Brownrigg, he was called over by Bartolo, who asked him why he had reported him to the police.
"Bartolo and I have never had an argument and we actually speak to each other. But he was clearly angry. There were some 10 people with him, and he wanted to know why I had reported him to the police," Brownrigg told MaltaToday.
At that point, Grezzju Bondin intervened to tell Bartolo to leave Brownrigg alone. Bartolo responded by punching him to the ground. Another man was reported to have punched Bondin a moment later.
The ensuing scuffle was broken up by police, who on their part made arrests on the spot. The police said Bondin suffered light injuries.
The Labour Party said the Zejtun incident concerned a private person who was not representing the party in any way. "Labour condemns any provocation or reaction without any reservations, and believes steps should be taken."
Labour insisted that the PN had broken a broadcasting directive on reporting on voting day by "inflating this incident with the aim of creating unnecessary alarm".
In its statement, Labour condemned the PN's "irresponsible actions" and appealed for calm.
---
Any comments?
If you wish your comments to be published in our Letters pages please click button below.
Please write a contact number and a postal address where you may be contacted.
---


All the interviews from Reporter on MaltaToday's YouTube channel.
---
EDITORIAL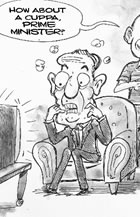 Tremors of unease
---
---