| | |
| --- | --- |
| Maurice Mizzi | Sunday, 07 June 2009 | |
We love June for giving us the ideal temperature for walking in our gardens enjoying the beautiful colours of flowering climbers and the fragrance of our summer shrubs and herbs.
Bougainvillea bracts, the jewels of our summer gardens, shine and add colour to the picture.
Honey bees are busy pollinating our flowers while the buzzing of these insects calms our frayed nerves and lowers the heartbeat of our motor.
Beautiful Admiral Butterflies are chasing each other through the flowers and hedges. I often wonder what they are after.
ANNUALS – By now all of our spring flowering annuals should have been pulled out of the ground in order to make way for the summer colour. Even though some stocks were still in flower they had to be discarded. It is a pity that sometimes we have to choose between two beautiful plants. Nevertheless the saying "Out with the old and in with the new" does not only apply to some men's love affairs but also to plants.
Remember to leave some stocks for seeds. Double stock flowers do not produce seeds. These are produced by the single flower. The best way to gather seeds of stocks is to pull out of the ground at an early stage most single flowering plants leaving only the double ones and a few single ones which are earmarked for the production of seeds.
Leaving too many single flowers will make your seeds produce a high percentage of single flowers the following year.
The heat of summer limits sowing in Malta of most interesting European plants. Nevertheless Zinnia, Asters, Celosia, Amaranths and Tagetes do well in our hot climate and are the kings of our summer gardens.
You are still in time to sow these plants, but do not delay.
BULBS – The spring bulbs are just a memory. We must now let them take their well earned rest until next spring.
Remember that even though the withered leaves look awful they must be left to wither away naturally for as long as possible. This is important since this will strengthen the bulb and improves next year's flower production.
Normally my gardener leaves the bulbs undisturbed in the soil during summer and come next spring these will come alive and flower without any problem.
Some gardeners however prefer to lift and store them in a cool place.
My efforts at growing lilium bulbs in pots met with a certain degree of success as can be seen from the photo in this article.
WATERING – Without water a lot of plants will die during our hot summers. Therefore frequent watering of most plants is important. Remember that Zinnia detests having its leaves wet. In other words If you splash them with water the plants will develop mildew and will look horrible.
Never water bulbs or Cyclamen during the summer months since they might rot.
Mature trees do not normally need water since the roots nearly always manage to find some water deep down in the rocks.
Remember that most plants tell you when they need water because their leaves droop. When this happens get out the water brigade very quickly.
DIED FLOWERS – What are the best flowers to grow for drying?
Helichrysum are easy to grow from seed and make great dried flowers, but you need to remember to grow a tall variety.
Flowers should be cut to dry before they are fully open while they still have a tight, conical centre. If picked fully open they open more as they dry and sometimes disintegrate.
Sow the seeds in trays and pots or directly where they are to grow.
I have found that Statice is also an excellent annual for use in a dried flower arrangement.
Another plant which can be grown for a dried flower display is the globe artichoke.
If left to mature this plant produces an exciting violet flower which is ideal for a dried flower exhibit as can be seen from the photo in this article.
TAMARIX RAMOSISSIMA – Last week I attended a society wedding in a beautiful villa in Bur Marrad sporting a wonderful mature garden. My eyes were attracted to a colourful shrub sporting lilac flowers. In all the greenery this plant stood out and attracted the attention of quite a few guests. In fact there was a competition as to what kind of shrub it was which was a good thing since it took away our attention from the beautiful young girls dancing the night away making us wish that we were thirty years younger.
The shrub was Tamarix Ramosissima. In fact I have a younger specimen of this plant growing in my garden as can be seen from the photo in this article.
The Tamarix family consists of 50 species of deciduous shrubs and small trees. Most of the species grow on coastal flats, river estuaries and on saline soils. They grow well in coastal areas and are immune to the salt in the soil. In fact there are a number of these trees wallowing in a meter of sea water in the most frequented restaurant in San Tropez called the Cinquante Cinq.
The Tamarix Ramosissima is quite rare since the types normally grown are the paler flowering varieties.

In my garden
During these last few days there was a lull in the production of flowers. On one side of the picture the bulbs after a glorious month are now wilting away and gathering strength for next season's flowers and on the other the summer flowers have not yet come on stream.
Even the bees after going after the hay in the fields are now taking a rest waiting for the flowers of thyme to emerge.
Zinnia, Amaranth, Celosia and Aster are only now forming buds while shrubs such as Cassia are waiting for the temperatures to hit the upper thirties before delighting us with their yellow flowers.
In spite of this my garden is not devoid of colour. Flowers of Poncirus, Passion Fruit, Dombeya, and Mesembryanthemum are in flower.
The flowers of my water lilies are covering the ponds so that the water and the fish are hardly visible.
One of my succulents growing in a container exploded with beautiful red flowers (see photo). Who said that succulent flowers are not colourful?
Another container full of pansies (see photo) added colour near the entrance to my garden.
Newly emerging red leaves of tropical trees such as those of my schottia complete the picture.
Pollution is the big killer
While the ADT is focusing its attention on creaming more revenue from another spate of stupid cameras which do not very much else than restrict the flow of traffic, the ADT and its erstwhile advisors would do well to read the following extract from the foremost car magazine the AUTOCAR (24 April 2009)
"More people die from air pollution-related diseases in London alone than are killed in accidents involving cars in the UK, new figures from the European Environment Agency have shown.
In 2005, the last year for which figures are available, 2905 people aged over 30 in London were prematurely killed as a result of particulate pollution, compared with 2946 deaths on UK roads in 2007 (the most recent statistic). Of these, 2358 involved cars.
The European Commission started legal action against the UK in January over the government's failure to improve air quality since 2005. Other member states facing prosecution include Slovenia, Cyprus and Estonia".
Fortunately so far Malta is not being prosecuted but our islands' pollution is silently killing hundreds of people. Yet there is very little reaction to the many vehicles which are visibly polluting our roads.
The main polluters are the buses. Yet there are also cars and constructers' trucks belching fumes. Just because the smoke is being emitted from an exhaust placed high up on the vehicle it does not mean that the pollution has been eliminated.
I stopped a warden the other day (my hobby this year is sticking my neck out) and asked him whether he was booking a polluting truck passing by. "That is not my job. That is the job for the police" he said.
"In actual fact that is everyone's job", I said. But it was like talking to a brick wall.
In the meantime hundreds of Maltese are having nightly asthmatic attacks, contracting lung diseases and dying of lung cancer. U Alla jbierek hadd ma jiftah halqu (nobody protests).
What are the VRT stations doing? By now should they not have tested all the old cars and busses and put them right or are palms being greased instead?
Should not the ADT be looking into the pollution problem instead of causing traffic jams with their cameras. The reason for the installation of more cameras i.e. that one or two persons die a year in traffic accidents do not hold water when hundreds are dying of pollution caused by excessive gas emission from cars
Malta needs an opera house
We are great talkers but lazy doers. For nearly sixty years we have been talking of rebuilding the bombed Opera House in Valletta. Many ideas have been aired on the future of this site; from a Parliament House to garden.
In my opinion and in the opinion of most people I talk to there is only one way to rebuild this site. It has to be rebuilt as it was before World War 11 destroyed it.
Most towns in big countries have their Opera House. Even small islands such as Corfu have one. Therefore it would be a shame were we to reconstruct the site as anything else but an Opera House.
All we have is the beautiful Manoel Theatre in Valletta and a garage which is called the Mediterranean Conference Centre.
Malta definitely needs an Opera House in Valletta. Once built it will be fully utilized (Crompton's Law).
---
Any comments?
If you wish your comments to be published in our Letters pages please click button below.
Please write a contact number and a postal address where you may be contacted.
---


All the interviews from Reporter on MaltaToday's YouTube channel.
---
EDITORIAL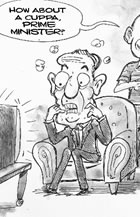 Tremors of unease
---
---