| | |
| --- | --- |
| News | Sunday, 07 June 2009 | |
David Darmanin
A scuffle at the Ħal Far Tent Village for immigrants erupted last Friday after a female third country national caused a disturbance after being informed of her impending eviction, this newspaper can confirm.
The police were called to intervene, but a group of girlfriends of the evictee attacked the officers after panic ensued when the eviction notice was handed out.
MaltaToday is informed the police contained the situation and managed to break up the fight in no time.
A spokesperson for OIWAS, the government organisation that runs the Hal Far Tent Village for immigrants, said there is no hard and fast rule on the reasons why open centre residents are evicted, except for when they are found guilty of "serious" misbehaviour or breach of law.
Open centre residents are being handed eviction notices upon expiry of a four to 12-month contract, which they sign upon admission.
It is standard practice for any residential facility that retrains individuals for independent living, to do so by establishing a temporary contract for residents to stay until they are ready for integration within the community.
But there seems to be no rigid policy governing the extension of contracts, or for their eviction from the Tent Village. OIWAS confirmed that open centre residents' contracts are renewed or terminated on a case-by-case basis.
Another standard procedure in residential facilities is for a social worker's report to be compiled upon expiry of a resident's contract, to recommend whether a resident is ready for release or not.
No such reports seem to be carried out at the tent village. An OIWAS spokesperson simply said that "professional staff working at the Open Centres support vulnerable asylum seekers. The system is very flexible with these persons so much so that there are several cases of residents who have been living in the open centres for several years."
Asked how many residents have been evicted so far, OIWAS said it had no statistics on evictions. This contrasts starkly with the policies adopted by other organisations running residential centres, which compile statistics showing the number of clients handled, admitted, rejected, the stay period, referral bodies and other data.
---
Any comments?
If you wish your comments to be published in our Letters pages please click button below.
Please write a contact number and a postal address where you may be contacted.
---


All the interviews from Reporter on MaltaToday's YouTube channel.
---
EDITORIAL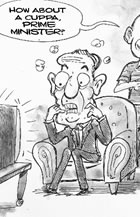 Tremors of unease
---
---