| | |
| --- | --- |
| News | Sunday, 07 June 2009 | |
Charlot Zahra
Alternattiva Demokratika (AD) chairperson Arnold Cassola said yesterday he was confident of a positive result for the party in the European Parliament elections, but was cautious about the possibility of AD obtaining a seat in the EP.
Cassola, who was also contesting as a candidate for the EP elections yesterday, voted shortly after 10am at the Pembroke Primary School, accompanied by various AD officials including deputy chairperson Stephen Cachia.
Asked about his expectations for the EP elections, the AD chairperson said: "I hope that we as AD fare well in these elections. It looks as if we're going to obtain a good result."
Cassola expressed his hope "that everyone will vote according to his conscience and the people would vote for the best six persons who, in their opinion, could represent Malta in the European Parliament."
The AD chairperson was more cautious when asked whether he was of the view that he would obtain the sixth seat.
"I do not have the talents of prophecy, hence I cannot say beforehand what is going to happen," Cassola said. "I think that we will obtain a decent result. What I think is important is that at the last count, you try and do it.".
Cassola said that for AD to obtain the sixth seat, what counted most was not just the first preference vote. "Last time we obtained 9.3%, however in the end, we ended up unelected," he recalled.
"I would be happy if we manage to obtain around six to seven per cent but then, at the last count, we get the sixth seat."
He thanked Yvonne Arqueros Ebejer, the other candidate on the AD ticket for the EP elections.
Unlike the Prime Minister and the Opposition leader, journalists, photographers and cameramen were not allowed to move beyond the 50 metres stipulated in the Electoral Law, and had to take Cassola's pictures and comments from end of Alamein Street, where the Pembroke Primary School is situated.
---
Any comments?
If you wish your comments to be published in our Letters pages please click button below.
Please write a contact number and a postal address where you may be contacted.
---


All the interviews from Reporter on MaltaToday's YouTube channel.
---
EDITORIAL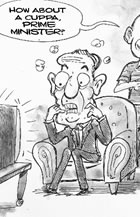 Tremors of unease
---
---