| | |
| --- | --- |
| Film Review | Sunday, 07 June 2009 | |
Even though we live in a time that's friendly to genre pictures and, even more so, to reboots of iconic science fiction and fantasy sagas, it's difficult to believe that Terminator Salvation would ever have had it easy. Undeniably, the film stems from a rich SF tradition, being one of its most enduring franchises, and having the privilege of being imprinted into the public consciousness, whether we like it or not. Arnie's cold but strangely sympathetic countenance, his trademark catchphrases ('Hasta la vista, baby!' and 'I'll be back!'), supplemented by a breakthrough in visual effects and an exploitation of the man-machine interface (an immensely hot topic in the eighties and early nineties), cemented James Cameron's reputation as Hollywood's go-to guy for awe-inspiring techno-thrillers (until he went and did Titanic, that is).


2003's Terminator 3: Rise of the Machines jettisoned the series into the noughties, but nobody can say that this move was anything other than a non-starter. While the film continued the story of John Connor, as he would gradually develop into his much-prophesised role as leader of the human Resistance against the AI armies of Skynet, in light of Terminator Salvation, it can only be seen as a necessary stepping stone in what Christian Bale, the latter films' star (and its own John Connor), repeatedly (and somewhat pompously) refers to as the Terminator 'mythology'. T3 had some cosmetic novelties (starting with a female Terminator) but with Salvation, we are actually plunged into the debris of the much-foreshadowed Judgement Day, a post-apocalyptic world in which the Resistance huddles in rough-and-tumble packs, evoking both The Matrix and Mad Max. The bleak atmosphere evident in the trailers (punctuated as it was by the necessary explosions and robot armies) promised something both different and serious, in a similar vein to that other Bale-starring franchise, Batman.
But there were several factors working against Salvation from the very beginning. The first was its director. McG (real name Joseph McGinty Nichol), instantly evokes revulsion in the heart of any discerning moviegoer familiar with his filmography: he was at the helm of the unredeemable blunders Charlie's Angels and it's sillier sequel, Charlie's Angels: Full Throttle. Why would this hack, who cut his teeth on music videos, shoulder the responsibility of revitalizing one of the most important franchises of the genre? Tensions on the set revealed that it wasn't just the public that was sceptical of McG's appointment as director. A few months ago, a now-legendary audio recording of Christian Bale ranting at Shane Hurlbut - the film's director of photography - was released online. The four-minute, expletive-ridden diva fit was a double blow to the film's potential box office standing. First of all, it alienated people from Christian Bale: the troubled actor's anger issues had been flagged by the press in the past, this only confirmed and exacerbated them. Second, the fact that Bale was allowed to be so preposterously rude to an integral member of the crew simply showed us who's really in charge of the film. Did McG have any confidence in his role at all? If Bale was allowed to push people around and tinker with the director's vision, could we even call it a vision?
Unwittingly armed with the above series of doubts, I came into the fourth instalment of the Terminator franchise with stratospherically low expectations. As the suitably metallic lumber of the credits sequence (complete with the trademark percussive musical theme) gave way to the first scene, I was surprised to see Helena Bonham Carter addressing Marcus Wright (Sam Worthington), an inmate awaiting death row. She convinces the murderer that the path to redemption lies in signing his body away to Skynet. That was 2003. In 2018, Judgement Day has happened and John Connor has yet to come of age as the supposed saviour of the human race: here he is merely a soldier of the Resistance. But as we're sucked into the wonderfully matt world of post-apocalyptic browns and greys, one starts to think that maybe, it's McG who has come of age with this film. While the film's shortcomings are evident and plenty: starting from the predictable plot and down to the one-dimensional characters and action sequences that are a brazen re-tread of what worked in the previous films, Salvation brings in an element of adventure that feels fresh. Enveloped in a monochromatic haze throughout, the narrative sacrifices some of the heart (no molten lava thumbs-up in this one) and its comic relief is nowhere to be seen. But what is gained is a genuine atmosphere. The otherworldliness of the post-Judgement Day earth, even though it's strictly speaking bleak, lends an aura of fantasy to the proceedings. And so, all of the explosions and action sequences are nicely framed within an escapist quest-tale, which only helps to get us involved for the duration of the ride.
Against all odds, McG and co. have managed to kickstart yet another genre reboot. And while many will doubtlessly miss Arnie, but those who think that his responsibilities as the governor of California have forced him into complete non-involvement with the film will be in for a bit of a surprise.
Actor profile: Christian Bale

The Welsh-born Christian Charles Philip Bale described his childhood (his mother was a circus clown while his father juggled the roles of entrepreneur, commercial pilot and talent manager) as 'interesting'. And when the young actor was launched into the limelight, he was barely into his teens. Having done commercials for a fabric softener and a cereal when he was eight and nine respectively, he made his stage debut opposite Rowan Atkinson in a production of Larry Shue's two-act comedy The Nerd staged in 1984.
After appearing in television productions Anastasia: The Mystery of Anna, Mio in the Land of Faraway and Heart of the Country, the 13-year old Bale had the privilege of appearing in Empire of the Sun, Stephen Spielberg's adaptation of J.G. Ballard's semi-autobiographical novel. Bale repeatedly cites his involvement in the film (set in a Japanese WWII war camp) and his status as a child actor in general as an explanation for his infamous temper, which nearly got him in trouble with the police in July 2008 (when he allegedly assaulted his mother and sister) and which was fanned more recently with the online circulation of his outburst at Shane Hurlbut, director of photography for Terminator Salvation.
Bale came to further attention when he took on the lead in Mary Harron's American Psycho, an uncompromising take on Bret Easton Ellis' equally unrestrained satire on 80s yuppiedom. He took his customary intensity to a logical extreme when he portrayed Trevor Reznik in 2004's The Machinist. Bale managed to reduce his weight to 27kg to play the emaciated and delusional factory worker in Brad Anderson's psychological thriller.
His next role, however, required him to bulk up alarmingly fast. When he was offered the role of Batman in the Christopher Nolan-helmed reboot Batman Begins, the actor immediately embarked on a rigorous exercise regime. Begins was a great success, but its sequel, The Dark Knight, garnered $1 billion worldwide.
He will be playing FBI agent Melvin Purvis in Public Enemies, Michael Mann's Depression-era crime drama, set for an early July release.
---
Any comments?
If you wish your comments to be published in our Letters pages please click button below.
Please write a contact number and a postal address where you may be contacted.
---


All the interviews from Reporter on MaltaToday's YouTube channel.
---
EDITORIAL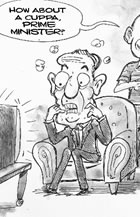 Tremors of unease
---
---