| | |
| --- | --- |
| News | Sunday, 17 May 2009 | |
Karl Stagno-Navarra
AFM patrol boat captains could be destined to be authorised to act as 'Consuls' on the high seas and be the first to "screen" intercepted migrants and consider their eligibility for asylum or humanitarian protection.
The proposal – based on the Spanish migration model – is reported to have been forwarded to Malta for consideration by the Italian government, which this week secured Malta's full backing to insist on including migration in the Mediterranean on the agenda of the European Council summit in Brussels next month.
While the Maltese government reportedly wants to push its proposal of having a strong UNHCR representation in Libya to determine African asylum claims, a senior diplomat explained that the Italian proposal to screen migrants on the high seas could be "too much of a responsibility for the officers", besides the human rights factor.
Italy is currently under enormous pressure by the UNHCR over its forced repatriation policy. Rome has been warned the UNHCR will hold the country directly responsible for breaches of human rights.
"Malta has no agreement with Libya to be able to send migrants back, and even the agreement existed, we still don't have the capability of ferrying the migrants back into Tripoli," the diplomat said.
Another option that has been tabled is the consideration of having the diplomatic or consular missions in Africa serve as the "processors" of asylum-seekers, but yet again, the Maltese government argues that this could also be problematic in war-torn or dictatorial countries.
A series of meetings held last week in Brussels between the diplomatic mission chiefs of Malta, Italy, Spain, Greece, Cyprus and Belgium have managed to produce a united front before the European Commission and the EU's Czech Presidency, with the specific intent of influencing the EU summit's agenda and get all EU leaders to agree on discussing the need for immediate action on irregular migration.
Malta's EU permanent representative Richard Cachia Caruana and his Italian counterpart Ferdinando Nelli Feroci are reported to have met several times during the past two weeks, discussing technicalities of proposals to be pushed by foreign and interior ministers for the pre-summit meetings scheduled in Luxembourg this week.
As the diplomatic spat between Malta and Italy over migrants continued to have its sporadic fall-out, with tit-for-tat remarks uttered between the two governments, Rome and Valletta are reported to have officially moved forward and are working closely together to solve the migration issue in the Mediterranean.
Home affairs minister Carm Mifsud Bonnici is eagerly awaiting his counterpart Roberto Maroni to establish a date to meet in Tripoli and jointly discuss the possibility of including Malta in the repatriation agreement.
So far, Malta expressed its satisfaction at the Italian agreement. However it is still quizzing what has become of it, as diplomatic reports have revealed that Libya has refused to accept more migrants returned on board Italian patrol boats.
Sources in Rome confirmed that the Italian frigate 'Spica' that attempted to disembark in Malta 69 migrants intercepted off Lampedusa, was actually instructed to deviate to the Grand Harbour because Libya refused to take in more migrants.
Since that day no more migrants were forcefully repatriated into Libya.
Last week, Italy delivered three patrol boats to Libya and started joint patrols in Libyan territorial waters in a bid to secure no departures of migrants from the Libyan coasts.
The patrols have been welcomed by the Maltese government as they will now be the first filters at sea, while Maltese naval assets involved in Frontex mission 'Nautilus IV' will serve as the second tier of security in the Mediterranean to halt the flow of migrants.
---
Any comments?
If you wish your comments to be published in our Letters pages please click button below.
Please write a contact number and a postal address where you may be contacted.
---


All the interviews from Reporter on MaltaToday's YouTube channel.
---
EDITORIAL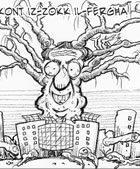 The Mater Dei haemorrhage
---
---