| | |
| --- | --- |
| What's On | Sunday, 17 May 2009 | |
NIGHTLIFE
Tonight
Gabarré – The Recession Edition
Lack of money won't stop the innovative cabaret show featuring original songs, shows and sketches at Chiaroscuro, Strait Street, Valletta. Performers include Alex Vella Gregory, Veronica Stivala, Marie Claire Camilleri and Philip Leone Ganado and a DJ set by Mike Quinton following the show. €10 donation at the door. E-mail gabarremalta@gmail.com for bookings and more information.
EXHIBITIONS
Until May 31
Visual Mechanics
An exhibition by Martina Schmuecker held at the Malta Contemporary Art, 8, Off Racecourse Street, Marsa. It combines two important strands of Schmuecker's recent work - one being a new series of drawings, the other a newly developed performance. Opening hours on all other days are between 16:00 and 20:00.
Until May 31
Umeko Okano: In the Light
The Japanese painter exhibits at Artitude Gallery, 17, Tigne Street, Sliema. Opening hours are 10:00 - 13:00, 16:00 - 19:00, from Tuesdays till Saturdays. More info: artitudegallerymalta@hotmail.com or 21316708/99844653.
June 5 - July 19
Police photography
Exhibition by Stephen Busuttil at the main hall of St James Cavalier.
THEATRE
Tonight
Jekyll and Hyde
Masquerade presents a production of the hit musical at the Manoel Theatre. The challenging roles of Jekyll and Hyde will be played by British performer Andy Reiss. Reiss will be supported by a strong Maltese cast made up of Dorothy Bezzina, Brian Cefai, Emily Jones, John Marinelli, Katherine Brown, Patrick Vella, Neville Refalo, Jean Pierre Agius, Marc Spiteri and a dynamic ensemble of around twenty performers. Direction is in the hands of Anthony Bezzina. Musical direction is by Kevin Abela, with vocal coaching by soprano Gillian Zammit. Choreography is by Anthony Bezzina and Jes Sciberras. Sets are by Adrian Mamo, and costumes by Ernest Camilleri.
Performances start at 20:00. Online bookings: www.teatrumanoel.com.mt. More info: 79793737.
Today
Il-Grajja tal-Gungla
Maltese adaptation (by Trevor Zahra) of Rudyard Kipling's The Jungle Book to be held at St James Cavalier. Showing at 17:00 and 19:00. A Teatru Qroqq production. Bookings: boxoffice@sjcav.org or 21223216.
May 21 - 24
How the Other Half Loves
The Alan Ayckbourn play will be playing at the MADC Clubrooms and is directed by Joe Pace, while the cast consists of David Ellul Mercer as Bob Phillips, Sharon Attard as Teresa Phillips, Jane Pillow as Fiona Foster, Marie-Claire Pellegrini as Mary Featherstone, Zep Micallef as William Featherstone and Colin Willis as Frank Foster. ASM is in the hands of Kurt Saliba.
May 22 - 24; 29 - 31
The Secret Lives of Henry and Alice
TNT Productions presents David Tristram's play as directed by Polly March at St James Cavalier. The titular couple in this domestic comedy will be played by Alan Montanaro and Denise Mulholland. The duo will also be interpreting a variety of secondary characters. Tickets at €16 are available from the box office on telephone number 2122 3200 or email boxoffice@sjcav.org
FESTIVAL
May 23, 24
Earth Garden
The third edition of the Earth Garden festival will take place at Ta' Qali National Park. Entrance to the concert - featuring Tribali - will be at €15. Tickets are available from Valletta – Exit, Shu, 2-22; Gzira – Jubilee; St. Julians – Juuls; University - Paperclips; Mriehel – Farsons Direct; Fgura - Aw Tribu; Paola – Babilon, Exit and Bugibba – Rookies. Entrance to all other areas - including the MTV Open Village - will be free.
QUIZ NIGHT
Thursdays
Snoopy's Pub Quiz
Quiz at Snoopy's Bar and Restaurant, Sliema starts at 20:30. The format of the event follows a typical UK pub quiz format: each table booked is considered to be a team. Quiz packs containing 40 questions on different topics are given out to each team, who would in turn be given an hour's time limit to fill in their answers. After the hour elapses, correct answers will be called out by the quizmaster, after which the winning table is announced. Winners receive a €20 discount off their bill. A free bottle of The Stump Jump (Australia), imported by Bicanter Wines, will be given to the winning table and runners up. Participation is set at €2 per person. Those interested in participating are kindly asked to contact quizmaster David Darmanin on 99458567.
---
Any comments?
If you wish your comments to be published in our Letters pages please click button below.
Please write a contact number and a postal address where you may be contacted.
---


All the interviews from Reporter on MaltaToday's YouTube channel.
---
EDITORIAL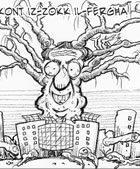 The Mater Dei haemorrhage
---
---