| | |
| --- | --- |
| David Friggieri | Sunday, 17 May 2009 | |
Public spending on culture, immigration and the eternal 'divorce debate' featured highly on the nation's list of hot topics in the past two weeks. Just this once, please permit me to engage in the national hobby known as cutting and pasting.
1) Public spending on culture. An upbeat, electric-guitar wielding Lou Bondì accused opera lovers of being musty old busy-bodies. They growled back that he's just an arrogant, superficial Larry King wannabe. Ouch! Here's Italian author Alessandro Baricco writing in La Repubblica on 24 February with an altogether different – and original - take on things.
"Channel those funds into schools and television. That's where the real Nation is to be found and that's where the battle must be fought …What's the point of saving opera when we produce students who know more about chemistry than about Verdi? What does financing entire seasons of concerts mean in a country where nobody studies the history of music even when they're busy studying the Romantic movement? What's the point of showing off with our cultural programmes replete with 'sublime theatre' when giving Benigni some air-time on national television is almost considered an act of heroism?…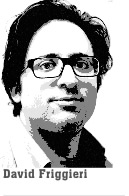 "Close down the Teatri Stabili and build a theatre in every school. Put an end to conferences and think of educating a generation of well-prepared and well-paid teachers.
"Forget National Book Councils and schedule a programme on books on prime-time television. Ditch all that advertising on chamber music and transfer the money saved into an evening of television which doesn't give a damn about viewership ratings…
"That money should be used to achieve one fundamental thing which the market can't and doesn't want to do: educate an aware, cultured and modern public. And it should do that where there is no discrimination based on class or background: in schools, first and foremost and then in front of television."
*
2) Immigration. Insults were traded, disgust and moral opprobrium were shown, diplomatic language gave way to verbal attacks while comfy talk of values was seriously undermined by pragmatism and realpolitik. On the local front, progressive politicians regrettably gave into the temptation to adopt the Tough Man stance. In International Migration – Globalization's Last Frontier, Jonathon W Moses puts things in perspective:
"In effect, globalization's supporters and detractors find themselves unlikely accomplices in their neglect of migration issues. This silent conspiracy is all the more stunning when one considers that migration controls are the only area where states have actually tried to expand their sovereign control in the face of globalizing pressures!
"Neoliberal advocates of globalization embrace free trade and capital mobility, yet refuse to extend their liberalization argument to the movement of people across national borders. Critics of globalization wish to return to a world where the nation is sovereign, where one's life chances are determined mostly by fate and where economic and political inequality in the globe will continue to grow.
"Both camps choose to ignore the potential that free migration offers to reverse and/or temper the inequalities and injustices that accompany globalization."
*
3) The eternal divorce debate is proving to be a convenient bandwagon for Malta's burgeoning army of freedom fighters. An issue which is old hat everywhere else, gains you liberal brownie points in the land of make believe. If it's still taboo territory for the opponents, that's fair enough I guess. To end on a slightly humorous note, I leave you with an extract from Thomas Fink's mock misogynist compendium The Man's Book. The section is entitled When to Marry. Might this be the elusive key to Malta's marriage crisis?
"The most common rule of thumb for the ideal age of your bride at marriage is ½ your age + 7. (For women readers, it's (your age -7) x 2.) Thus for a man of 30, a bride of 22 is most suitable; for a man of 40, a bride of 27.
"The formula adjusts for women's comparatively advanced emotional strength and matches the fertile period of a woman (14-47) to that of a man (14-80).
"Proponents suggest it also reduces the risk of later infidelity on the side of men: 'I like my whiskey old and my women young', in the words of Errol Flynn."
---
Any comments?
If you wish your comments to be published in our Letters pages please click button below.
Please write a contact number and a postal address where you may be contacted.
---


All the interviews from Reporter on MaltaToday's YouTube channel.
---
EDITORIAL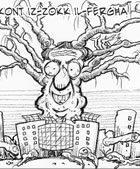 The Mater Dei haemorrhage
---
---