| | |
| --- | --- |
| News | Sunday, 17 May 2009 | |
James Debono
Norman Lowell, the far-right candidates for the European Parliament elections, will be contesting the election despite an interdiction from a suspended sentence he received for incitement to racial hatred.
Thanks to an obscure constitutional amendment of 2007 approved by both parties, persons serving a suspended jail term like Lowell can contest elections.
The amendment was hidden in a package which included the clause ensuring strict proportionality between the number of seats and the number of votes garnered by parties represented in parliament.
A spokesperson for the Electoral Commission explained that the package amended Article 54 if the Constitution of Malta to allow persons serving a suspended sentence, to be elected as MPs.
The 2007 amendment substituted the words "imposed on him by such a Court, or is under such a sentence of imprisonment the execution of which has been suspended" by the words "imposed on him by such a Court," removing any reference to suspended sentences in the constitution.
Despite this amendment, the European Parliament Elections Act still precludes persons serving a suspended sentence of 12 months or more from standing for the elections.
In fact, Article 54 of the Constitution refers directly to MPs, and not to Members of the European Parliament.
When asked, the Electoral Commission's spokesperson failed to explain the apparent discrepancy between the European Parliament Elections Act and the 2007 constitutional amendment.
While Norman Lowell's candidature could be the unforeseen consequence of a constitutional amendment, his electoral comeback could eat into Azzjoni Nazzjonali's vote, whose stand against irregular immigration is equally strong.
---
Any comments?
If you wish your comments to be published in our Letters pages please click button below.
Please write a contact number and a postal address where you may be contacted.
---


All the interviews from Reporter on MaltaToday's YouTube channel.
---
EDITORIAL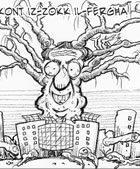 The Mater Dei haemorrhage
---
---