| | |
| --- | --- |
| Mona's Meals | Sunday, 17 May 2009 | |
There is nobody I like going abroad with more than The Writer. He is the perfect travel companion: quiet, not overtly enthusiastic about climbing mountains and exhausting stuff like that, mildly enthusiastic about the quality of hotel linen, and a total foodie. So it is It's either with him, or on my own; nobody else gets a look in.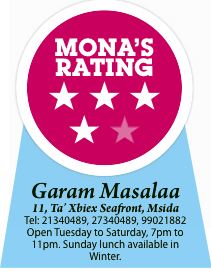 Travel means food and eating. History, art, culture and style can all be found on a plate and around it. If it's Italy, France, even England, then we prepare to put on a few kilos around our midriff, rather than in the luggage. That said, we do bring over every single bit of food that can go in jars and bags, the export and import of which is considered (barely) legal. That has included a poulet de bresse.
Back home, we cook. Prior to, and following, our trip to India last year, we dish out Southern Indian and Keralan food at least once a week. Our cupboards boast brought-over bunches of vanilla, bags of sweet and savoury cinnamon sticks, and the most fragrant cardamom I have ever had the pleasure of inhaling; I gave away a little but kept a lot.
The couple that cooks together stays together: that's my mantra. So if it's an anniversary (coming up soon: please send huge gifts), birthday or whatever, we usually don't go out. When people ask me where they should go 'to celebrate' I usually reel off a few restaurant names, but if it's the real amore they're looking for, then there's nothing like chopping a few onions together to do the trick and bring on the acceptable tears. Incidentally, there is nothing like reconciliation through co-ordination: you cannot really fight while wielding huge knives.
Producing good food at home means that we have become every more choosy than we ever were about eating somebody else's food. When you are producing excellent stuff at home, you set yourself up for disappointment on forays outside, and where let-downs are concerned, Indian restaurants are up there with the best of them: indifferent service, tacky décor, unhappy immigrants banging plates on your table and wishing they were back home, the cheapest meat ever doused in bland sauces and imitation 'Indian' produced without love or knowledge or any idea of patriotism. The crowning glory usually comes in the form of dessert.
India does cows in a big way. One dish, kulfi, which is meant to be a hard ice-cream made by reducing milk to half its original amount, is what you will usually end your dinner with. Years ago, while having dinner with the Indian High Commissioner, I was embarrassed that the restaurant (Indian, of course) brought out a dry, powdery frozen green blob, as made with cardamom as my skin is plated with gold, and placed it in front of him to eat. Being a diplomat, he did not squirm or complain, but I was wondering if he was as disappointed as I was by this tat masquerading as his country's international dessert exemplar.
In 'The Best of Indian Sweets and Desserts' (from Books for Cooks in Portobello Road, London, now also stocking Mona's Meals: The Foodbook, yey!), Aroona Reejhsinghani writes that 'India is perhaps the only country in the world where sweets are an integral part of foods. There is a large variety of sweets in every region which are all basically different to each other in all respects. Bengali rosgulla and north Indian burfi are both prepared from milk, but the way milk is used in each case is entirely different – and so is the taste […] No wonder, preparation of sweets is a highly specialised subject, verging on art."
No wonder too, that because I am aware of the lack of artistry on these islands' 'Indians' (the restaurants, not the humans) I called Garam Masalaa in the morning to book and begged them to produce a real dessert for us. 'We have kulfi', the lady who answered said 'and it's the real thing, but I will ask my husband to prepare something special for you'. Before you start hollering 'favouritism' like a four-year old in class, I did not tell her who I was. In fact, I had not even booked yet.
So, in case you thought I would wait until the end of this review to tell you that Garam Masalaa is fabulous, then I will put you out of your misery immediately: it is. Their starters are absolutely genuine, prepared by the lady, and made from scratch. She keeps popping into the kitchen to finish them off.
The three different pakoras: baingan (with aubergines), paneer (with cottage cheese) and chicken (with, um, chicken) were just lovely, wrapped in their chick-pea batter and fried quickly. The process alchemised the stuffing into soft mush.
The choice of starters, usually tallying 16, was slightly limited because the tandoor was on the blink, and she let us know before we turned up just so we wouldn't be let down.
Most people imagine a tandoor to be a red powder because at every other 'Indian' that is what your meat is smeared in. It is a huge, submerged clay oven which produces a very intense heat. Practically every kitchen in India has one.
Meats and vegetables are usually skewered (physically or naturally as in chicken thighs), doused in spices and sometimes marinade, and left to their own hot devices until a crisp outer shell is formed and a completely broken down inside comes about. It is slow cooking at its best and if you already knew that, forgive me for being patronising; it's just that I find it thoroughly shocking that most restaurateurs have no idea and disdainfully imagine patrons do not either.
I also find it offensive when restaurants use the term 'home-made' to describe their cooking. Kitchens are industrial spaces not homes. When you cook in the home you do it for people you know and you do not charge them money.
Yet at Garam Masalaa, there is so much love infused in what they produce that for once, the term almost fits. I think I'm madly in love with what they're doing and with them.
All the mains produced by the husband were glorious. Chilli was really chilli: huge red and green slices of the real thing. Ginger is ginger. Yoghurt is yoghurt. All the cuts of meat – lamb, chicken and beef – were beautifully trimmed and in three different dishes; we did not find a single piece of gristle or crap anywhere. We specified that we wanted ours "very spicy; 'Indian spicy' not 'chilli spicy'", which basically was asking for artistry. Boy did they come up trumps.
From the chicken pasanda, with its korma sauce, raisins and cashews, to the beef jalfrezi with black peppers, eggs, herbs and spices to the lamb do piazza, cooked in herbs, spices and onions, we just could not get enough. Every bowl after generous bowl was a masterpiece of affection. We packed what we left over and took it away with us. The next day it tasted even better.
On the night, there were not too many customers, and the food took a little longer to arrive than one would wish, but we did not mind. In fact, if the place is packed, you will wait a lot more. Do not complain: the chef makes each dish and sauce from scratch, reheats practically nothing and you will very probably never hear the ping of the blessed microwave in all your time there.
I wish they actually wrote what the spices are on the menu because it would bring the list to life. I also wished for more sophisticated lentils than red or yellow ones (which cook quickly and are therefore a chef's dream): black and brown lentils need more effort and time.
I hope that they can take this love I'm throwing their way and start producing fresh fish dishes. Right now, the prawns and the fish come from a freezer and believe me, you ain't ever tasted anything until you've tried a fresh shellfish curry, preferably from a rice barge at the Kumarakom Lake Resort in Kerala.
We also had a parantha stuffed with ricotta, coconut, nuts and raisins. 'This is better than the one we had in India' I told TW. 'Don't exaggerate' he retorted, still holding the flame of affection for all experiences sub-continental. I was right though; it was. I always am, anyway.
The place is, incidentally, superbly clean. I don't know what I am mentioning this but it is; probably because its previous incarnation was so horrible and dirty that it took me a full three years since this lot took over to actually visit, so put off was I by the previous incumbent.
The lady who runs the front of house (the wife, back from 22 years in India) is Maltese. She is lovely, warm and homely. I found it remarkable that an 'Indian' run by a Maltese lady was more Indian than any other on the island. She seemed to warm up to us. 'The couple that prays together stays together' she rounded off, after we chatted about her and her hubby's life far, far away.
Then, because we didn't come over all happy- clappy immediately, she apologised for acting like our mum. 'That's ok' we said 'We don't mind.' Our mums are like that, and that's why we love them. So you see why she gives the term 'home-made' a genuiness which is so difficult to find. Not to mention that it is all ridiculously cheap.
The kulfi, as promised, really was magnificent: shards of ice poking through the creaminess of reduced milk left a pleasing slick on the tongue and a welcome calm after the storm of assault on our olfactory senses from the spices. Yet what followed, a variation of kheer, was so tremendous that I could probably never do it justice: the long grains of the rice were breaking down gently in the thickened milk, the slivers of toasted almonds still crisp, the dried fruits plump from heat and moisture, the coconut detectable by osmosis. I could just go back and eat it over and over. To boot, they prepared it just for us.
I couldn't give Garam Masalaa five stars for the simple reason that it would be putting it on a par with De Mondion, and I'm sure the owners will realise it is not. Yet I will go back any time, try more things, put their take-away number on my speed dial, ask for more desserts, love and be loved. The patron and punter that eat from each other, stay together. Malta and India, little and large: finally together in one tiny, unattractive room.
---
Any comments?
If you wish your comments to be published in our Letters pages please click button below.
Please write a contact number and a postal address where you may be contacted.
---


All the interviews from Reporter on MaltaToday's YouTube channel.
---
EDITORIAL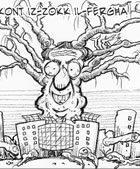 The Mater Dei haemorrhage
---
---