| | |
| --- | --- |
| Letters | Sunday, 17 May 2009 | |
We refer to a letter published on MaltaToday on Sunday 26 April 2009 by Mr. Luke Buttigieg.
We would like to give our iPhone customers some technical insights about browsing and download speeds. 3G speeds on what is technically called UMTS can reach download speeds of up to 384kbps. Vodafone Malta has nationwide coverage of the next generation of 3G with download speeds that can reach up to 3.6Mbps. This kind of mobile broadband service is called HSDPA.
iPhone 3G is of course a 3G phone which not only reaches the UMTS threshold of 384kbps but can also achieve HSDPA speeds. We have run a number of tests on the iPhone 3G in Malta and can assure that it attains HSDPA speeds. The experience on the iPhone 3G is very smooth including the streaming of videos from YouTube.
We will be more than glad to meet Mr. Luke Buttigieg and address any queries in relation to the Apple iPhone 3G experience.
---
Any comments?
If you wish your comments to be published in our Letters pages please click button below.
Please write a contact number and a postal address where you may be contacted.
---


All the interviews from Reporter on MaltaToday's YouTube channel.
---
EDITORIAL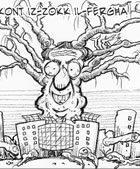 The Mater Dei haemorrhage
---
---