| | |
| --- | --- |
| Letters | Sunday, 17 May 2009 | |
Joseph Muscat was again proven right on the burden sharing pact at EU level. Just a few months ago, we heard Prime Minister Lawrence Gonzi lamenting that it was only Joseph Muscat who was recommending to him not to vote in favour of a voluntary scheme, as this would lead to nowhere. Time and facts have shown that Joseph Muscat's experience within the EU institutions and his vision were completely right. Muscat had from the beginning insisted on an obligatory pact. Muscat was insisting on this direction only because it was in Malta's interest, and the only way which would lead to a solution.
It is good to see that finally Dr Gonzi and the rest of Europe came along with Muscat's recommendations, and that now we do have an obligatory burden sharing pact on an EU-wide basis. A pact which the PN itself is declaring that is very important for Malta. The only sorry situation is that the PN is again trying to spin the voting issue, the same as it did on the Guantanamo Bay prisoners and on immigrants' right to vote. Two other instances where the PN spin was proven wrong.
---
Any comments?
If you wish your comments to be published in our Letters pages please click button below.
Please write a contact number and a postal address where you may be contacted.
---


All the interviews from Reporter on MaltaToday's YouTube channel.
---
EDITORIAL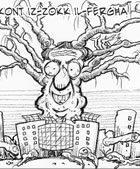 The Mater Dei haemorrhage
---
---