| | |
| --- | --- |
| Letters | Sunday, 17 May 2009 | |
The issue of the Sunday Times of Malta of 8 March 2009 highlights an illegal construction in the picturesque valley between Pembroke and St Julian's, immediately behind the Villa Rosa hotel grounds.
Even though the report spoke about 'irregular immigrants', the fact that the hut is 'irregularly' constructed, and in a place which should not allow such eyesores, makes it even more important for the authorities to remove such huts immediately.
Not only is the same construction (not in stone or concrete) still present this very day, but it is being developed even further. In fact the occupants, possibly youngsters from the neighbourhood, are going as far as to construct a stairway leading to the upper level sloping greenery.
The photos show the gradual improvement of this eyesore. The local council responsible for this public land has to date still not managed to get the place back in order, and, if you would agree, in the public interest, to include some write up in an early issue of one of your newspapers, perhaps this eyesore is removed and that similar illegal construction in such places will be better controlled.
---
Any comments?
If you wish your comments to be published in our Letters pages please click button below.
Please write a contact number and a postal address where you may be contacted.
---


All the interviews from Reporter on MaltaToday's YouTube channel.
---
EDITORIAL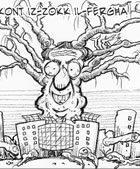 The Mater Dei haemorrhage
---
---