| | |
| --- | --- |
| Letters | Sunday, 17 May 2009 | |
The concept of 'people first' can be defined by the metaphor of not giving a person a fish, but giving him the tools to catch a fish. When putting the social aspect of people before anything else, you are showing you truly care about your country. Being noble to one's country would be to care passionately for its citizens – for what is a country, without its citizens? We associate patriotism nowadays with right-wing concepts rather then left-wing ones, however what is more patriotic than having a passion for the welfare of your country's citizens?
This is what I believe Claudette Abela Baldacchino is all about – from what I've heard her say throughout her election campaign; she truly cares about putting people first. On her agenda are illegal immigration, workers' rights, helping families who are in need, discrimination and she is promoting the idea that the European Union prioritise the Mediterranean, seeing as it is such an important region to Europe.
As a first time voter, I'm giving my vote to Claudette for three main reasons; Claudette is straight to the point when it comes to the harsh realities that make the lives of Maltese citizens harder; secondly because from what I've seen throughout her time within the Committee of Regions, she is completely dedicated to what she does and thirdly, and most importantly, she completely agrees in putting the social aspects of a country first on a government's agenda by focusing on the needs of a country's people first.
---
Any comments?
If you wish your comments to be published in our Letters pages please click button below.
Please write a contact number and a postal address where you may be contacted.
---


All the interviews from Reporter on MaltaToday's YouTube channel.
---
EDITORIAL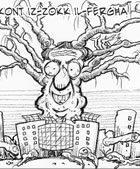 The Mater Dei haemorrhage
---
---