| | |
| --- | --- |
| Letters | Sunday, 17 May 2009 | |
I refer to the media reports and correspondence that appeared following the unfortunate incident suffered by Ms. Lisa Gatt and would like to clarify the following:
Contrary to what has been reported in the media, Multi-trip Polices and Annual Travel Policies are indeed available in Malta. These types of insurance polices, which are renewable annually, are often purchased by frequent travellers and insurance companies automatically cover trips undertaken to pre-determined geographical areas.
A specific request for an Annual Travel Policy to cover long periods of travel in certain parts of the world that present a higher degree of risk is likely to be viewed by insurance companies as a case of anti-selection and this is normally the reason why insurance companies would not be prepared to accept such risks.
The alternative to an Annual Travel Policy would be an Annual International Health Plan with an Evacuation Extension. Such a policy would cover all medical expenses incurred overseas as well as the costs to evacuate an injured or sick person to the nearest place of medical excellence.
Many travellers often underestimate the risks involved when travelling to certain parts of the world and regard insurance protection as an unnecessary expense. Incidents such as that suffered by Ms Lisa Gatt are very common and travellers are urged to seek professional insurance advice before travelling.
---
Any comments?
If you wish your comments to be published in our Letters pages please click button below.
Please write a contact number and a postal address where you may be contacted.
---


All the interviews from Reporter on MaltaToday's YouTube channel.
---
EDITORIAL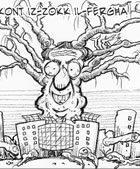 The Mater Dei haemorrhage
---
---