| | |
| --- | --- |
| News | Sunday, 03 May 2009 | |
Users of the hunting lobby's internet forum are debating a boycott of BirdLife supporters and business sponsors as part of a campaign to put pressure on the conservationist NGO.
The thread posted on the FKNK's internet website started with a call to boycott the insurance firm which employs a BirdLife official.
Soon enough, some 30 users joined in the debate calling for an effective boycott of BirdLife corporate sponsors – among them HSBC and Bank of Valletta, the Island Hotels group, internet company Waldonet, and even the comedy troupe from Zoo Productions, for allegedly being against hunting.
The message was read some 1,586 times, according to the forum's counter.
"I know we won't bankrupt the banks, but it doesn't mean our complaints won't make it to the top! And maybe the marketing managers will think twice before sponsoring a BirdLife project," one user, 'Grizzly', said.
"I don't know if the FKNK board would be ready to take up this initiative, maybe they could do some research, or maybe we could help them list the shops and services that support BirdLife."
Examples of the firms they identified were Waldonet. According to user 'muxuhunt', "whoever gets internet from Waldonet should remove it… because they supply it for free to BirdLife, and you know what an important tool that is. This is an NGO which has a lot of money pouring in, and they even get stuff for free!"
Another said Zoo Productions should be boycotted for producing the programme Puss In Boots and "for being against hunting".
Bay Radio was also listed for advertising the anti-hunting film Spring Awakening, which was screened at the Eden Cinemas.
---
Any comments?
If you wish your comments to be published in our Letters pages please click button below.
Please write a contact number and a postal address where you may be contacted.
---


All the interviews from Reporter on MaltaToday's YouTube channel.
---
EDITORIAL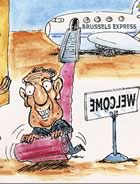 Reinstate those voters
---
---