| | |
| --- | --- |
| Saviour Balzan | Sunday, 03 May 2009 | |
The other day, this newspaper carried an editorial about the Maltese government's stand on the 144 migrants stranded some miles off the Italian Island of Lampedusa on the 'Pinar E' cargo ship. It was one of the rarer times this newspaper had decided to take a position emphasising that the Maltese government's action on a migration-related issue was commendable.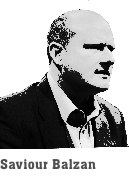 This was a clear case where the Maltese government was acting responsibly and within its international rights, and the Italians doing the exact opposite. That editorial was not taken well in Italian quarters. So much so, that the Italian ambassador decided to contact me by phone and question MaltaToday's stance.
"I am surprised at your editorial," he said, "I'm surprised that a newspaper traditionally so critical of government has taken such a position."
I replied that we take positions based on the island's realities and that in this particular case, the government was right and the Italian government was wrong.
And then he retorted: "I thought I was talking to a journalist and not to a politician."
I hit back: "This is an independent newspaper without any links to any political party unlike all the Italian media that literally licks Berlusconi's ass – and I don't usually get told what to write by politicians, let alone by ambassadors."
The ambassador was obviously dumbstruck at my reaction, leading him to obviously shut up.
The Italians are basically trying very hard to take over Malta's search and rescue region, by doing everything possible to put as much pressure. That pressure consists of making the international community believe that Malta should take all the migrants that happen to cross into the central Mediterranean and found in need of assistance within Malta's extensive SAR region. Contrary to what they believe, Malta's vast SAR region obliges it to coordinate rescue missions – and not to physically assist each distress call.
And it is more than obvious that Italy would like Malta to give up most of this area assigned so that Italy can have a larger area at its disposal, for commercial, political and of course military reasons.
As I read the BBC news website on the subject last week, I realised that the BBC had queried all the players in this 'conflict' but no comment from our foreign affairs minister Tonio Borg was forthcoming. Now I will put forward the suggestion that Dr Borg is not the proactive type. In this time of crisis, I will stand by an incompetent minister.
But Malta's High Commissioner in London could have phoned Bush House to remind them of some fundamentals in 'journalistic' reporting. Then again, Malta should have asked the Italian ambassador for a bad coffee at the foreign ministry to give him some tough words rather than a pain chocolat.
And as I write, news has come in that Malta has made a U-turn after picking up migrants off Lampedusa and then stopped by the same Italian authorities from dropping off the migrants in Lampedusa – the nearest, safe port of call.
Finally, the government has decided to deliver a note verbale to the Italians on this incident.
But really and truly someone needs to give Berlusconi and his rightwing sycophants, including that neo-fascist Maroni, the middle finger.
This Italian bullying comes at an inappropriate time for the Nationalist party. And of course we had The Times, the official spin machine of the PN, yesterday attempting to give the impression that Dr Gonzi et al were being tough with Silvio.
When everyone is trying to suss out what the benefits of EU integration is, we're faced with a stunted prima donna withmore allegations of corruption than any modern day politician, who is treating Malta like some renegade. Silvio should be told to sod off.
And still, we are at the mercy of Italy. We're in a club where Brussels has opted to do nothing and will do nothing. There is more action on hunting from Brussels (and do not get me wrong, I am not advocating the flouting of the Birds Directive here) than about the plight of human lives at sea.
There is only one answer: if Brussels does not have the balls to act and stop Italy from bullying Malta, then it will mean that Gonzi should find the courage to switch off the radio transmitters and block all contact with the Italian coastguard. He should order General Custer – I mean our Brigadier – to take offensive action, giving water, diesel and a GPS to migrant boats to head away from Malta. For if the EU or Italy think they can treat Malta like some long forgotten Mafia-dominated region in Sicily, then they are mistaken.
We may not have good roads or exquisite food, we may not be the creators of beautifully designed cars and underwear, and but we also have brains and some Anglo-Saxon resilience to stand up to neighbours who elect corrupt MPs, produce hopeless soldiers, and the worst kind of criminality the world has ever known.
Dr Gonzi, stand up to these Italian bullies and if you don't have the stamina for such a fight pass the buck to someone else. At stake are not the PN or PL, but our country.
Lino's biodiversity
The hunters led by Lino Farrugia have put up a billboard saying 'No hunters, no trappers – No biodiversity.'
Well, if there was ever a stupid and ridiculous billboard then this must be it. If Farrugia ever had any sense he should have realised that if the hunters disappear from the face of the earth there will be more wildlife. The only good thing that seems to have happened to Malta after joining the EU, apart from the fact that David Casa has a raving time in Brussels and Louis Grech more money to spend, is that we can have higher standards for our environment.
But as Farrugia was hanging up silly billboards, the PN and the PL were busily pandering to the hunting lobby.
If there was one person who stuck out like a sore thumb, it has to be the PN candidate for the European Parliament, Alex Perici Calascione, the man whose working colleague this week decided to overzealously issue a garnishee order against Illum journalist Julia Farrugia. Julia was wrongly fined in my opinion for a libel suit filed by the hunters. The cheque payable to the hunters' federation was issued, but Dr Perici Calascione's colleague did not care to wait for the snail mail to arrive and issued a garnishee order.
Now, this publishing house may not be Random House, but we are certainly in a position to pay Perici Calascione's firm for its fees.
Now Perici Calascione is a PN candidate who – take note – will never get elected to the European Parliament and this may or may not have to do with the fact that he is a Joe Mizzi lookalike. But what's important is that he is an unofficial, or official legal advisor to the hunting federation.
So much so, that he will – according to NET news – be on the legal team to fight alongside the Maltese government, the European Commission's case in the Court of Justice over Malta's breach of the Birds Directive, after being proposed by Farrugia & Co.
Keeping in mind that Perici Calascione is the brother to Joe Perici Calascione, of FKNK committee fame, now we have this very PN candidate on the legal team, as suggested by the hunters' federation, to represent the Maltese government.
So in one day, Alex Perici Calascione is standing in as a five in one. A lawyer by profession, Joe Mizzi lookalike, a PN candidate, a member of the government's legal team, and a legal advisor – for the hunting lobby: really, I have to say that in spite of all the ass-licking from the MEP candidates for the hunting lobby, very few hunters will be voting for either Simon Busuttil, John Attard Montalto, Louis Grech or Perici Calascione. Most hunters will be doing exactly what I will be doing, abstaining.
But this time, there will be a fundamental change in my plans. In a sign of solidarity to all those who think that Italians are bullies and the Maltese government are a bunch of sissies, I will be transferring my Siracusa visit to the Latin quarter in Paris.
For the time being, I will be giving our Mafia brothers a miss and fly off to France. So, if anyone wishes to join me, it will have to be Paris. Sorry chums, it will not be Sicilian wine but Sancerre and Menetou Salon and it will not be spaghetti vongole but Tartare.

Polidor is a typical, old French restaurant and yes, I ate there and these were the prices in April this year.
Monday – Boudin €11 (Blood Sausage);
Tuesday – Hachis Parmentier €11 (Shepherd's Pie); Wednesday – Petit Salé aux Lentilles €12; Thursday–Boeuf Mironton €12; Friday–Hachis Parmentier €11; Saturday–Langue de Boeuf piquante (Beef Tongue)' Sunday–Souris d'Agneau confite
This was the writer's André Gide's favourite restaurant, as well as for Kerouac, James Joyce, Hemingway, Paul Valery and Antonin Artaud (http://restaurantpolidor.info)
41, rue Monsieur–le–Prince, 75006 Paris; Telephone: 0143 269534; Directions: In the Odéon quartier of the 6th, south of rue Racine. Métro: Odéon (Lignes 4, 10)
Alan Deidun
The PN candidate for Brussels, who lost his cool and accused Julia Farrugia of being in cahoots with Labour after she asked him very politely a very simple question – namely, if he could explain where the hell he had obtained all the email addresses of the University students. Needless to say, the question was not answered and instead Deidun exploded and accused Julia of being a stooge. Three cheers to Deidun and his very different way of doing politics. Thank God, he does have a chance in a million in getting elected.
---
Any comments?
If you wish your comments to be published in our Letters pages please click button below.
Please write a contact number and a postal address where you may be contacted.
---


All the interviews from Reporter on MaltaToday's YouTube channel.
---
EDITORIAL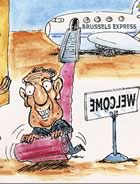 Reinstate those voters
---
---