| | |
| --- | --- |
| MEPA Watch | Sunday, 03 May 2009 | |
Case Details
This week, government announced its intentions to install three wind farm units. The sites identified by government are Wied Rini in the limits of Bahrija, Hal-Far Industrial estate and Is-Sikka l-Bajda, just off the coast at L-Ahrax in Mellieha. The first two locations are land bound. Wind farms are typically associated with a number of individual slender wind turbines located on unobstructed terrain. These turbines are interconnected with a medium voltage power collection system, which in turn feeds a communications network. However, for all intents and purposes, it is relevant to note that the land between the turbines may still be used for agricultural or other purposes.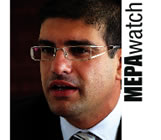 The Minister of Resources was reported as having stated that until today the deep sea technology has not developed at the rate which we were anticipating four years ago. Hence, the Minister was justified to add that Malta does not have the luxury to dismiss those alternatives which are currently available, especially when one considers that the Maltese government is bound by stipulated EU targets of producing 10 per cent of its energy demand from clean renewable resources by the year 2020.
Against this background, the government announced that it will be submitting three separate MEPA applications on three different site locations – Wied Rini in the limits of Bahrija, the Hal-Far Industrial Estate and is-Sikka l-Bjada just off the coast at L-Ahrax tal-Mellieha. We were also told that the Sikka l-Bajda has a potential to accommodate 19 large turbines in sea water, which will generate enough electricity to supply 40,000 households. On the other hand, the Hal-Far and Bahrija site can cater for another 7,900 households altogether. In line with established procedures, government is obliged to publish a project description statement, further to which the public can comment and the MEPA may identify whether the selected sites are appropriate.
Robert Musumeci's observations
To begin with, one must highlight with primary consideration the advantages and disadvantages which are typically associated with wind farm technology. Those who are skeptic about wind farm technology lament that this technology is still considered unsustainable in this day and age, especially when one considers the costs associated with the infrastructure in relation to the amount of energy generated. It is also argued that wind is not a constant occurrence, and to some, wind farms are considered as eyesores. Others complain that when the turbines catch the wind, the noise generated by the cranking blades are a source of noise pollution.
From a planning point of view, it is my view that the Wied Rini application is the most contentious. Those opposing the project may well argue that the Bahrija site is a Rural Conservation Area, while Structure Plan policy RCO 2 clearly states that no form of urban development will be permitted within Rural Conservation Areas. Under normal circumstances, unless a proposed development does not consist of a structure or facility which is essential to agricultural, ecological or scenic interests, it cannot be permitted in Rural Conservation Areas. This rationale, in fact, is embodied in Structure Plan Policy RCO 4. On the same note, those who are against the project taking place in Bahrija may take the issue further by underlining that Wied Rini is a Scheduled Area of Ecological Importance which serves as a buffer zone to the Scheduled Level 1 water course. In all fairness, Paragraph 15.34 of the Structure Plan Memorandum states a general presumption against any development in protected areas, which renders the Wied Rini Proposal even more onerous.
Nonetheless, MEPA must appreciate that wind farms cannot be located in a built-up area. Neither they can be built anywhere in the countryside, since the topography in relation to the prevailing wind patterns play a central role in the site selection process. Of equal relevance, the Structure Plan makes exceptions to the general rules and its textual policies should not never be interpreted in a vacuum. As a matter of fact, Structure Plan Policy, namely SET 12, was specifically designed to allow development in rural areas when there are reasons from a planning point of view why such a development cannot be located in an area designated for development or in an existing built up area. Wind farms are a case in point, especially if no alternative locations are forthcoming from the opposing sources. MEPA is therefore obliged to secure a pragmatic approach and ensure that the country's energy objectives are achieved within the stipulated time frames. Only time will tell whether these applications will be approved with little said about them. In any case, the country cannot afford to sit back.
Robert Musumeci is an architect. His main area of practice focuses on MEPA development applications.
---
Any comments?
If you wish your comments to be published in our Letters pages please click button below.
Please write a contact number and a postal address where you may be contacted.
---


All the interviews from Reporter on MaltaToday's YouTube channel.
---
EDITORIAL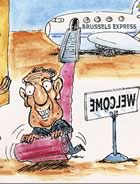 Reinstate those voters
---
---