| | |
| --- | --- |
| Interview | Sunday, 03 May 2009 | |
It is perhaps inevitable that in times of global fear and uncertainty, the first symptoms of impending disaster will always be a sudden pandemic of sick jokes.
News of an outbreak of Swine Flu among humans in Mexico – and subsequently in the USA and various other parts of the world, including Europe and South East Asia – has been no exception. (My favourite to date was a cartoon of Winnie the Pooh and his best friend Piglet, with a thought bubble pencilled in over Pooh's head: "If that Pig sneezes, he's bacon.")
Fortunately for the rest of us, however, there are a few people out there who take these things just slightly more seriously. These include the health officials of the World Health Organisation and the European Centre for Disease Prevention and Control (ECDC), among others: and it is worth mentioning that Maltese doctors are also leading the research into (and consequently the struggle against) swine flu, including Dr Andrew Amato Gauci, currently based at ECDC's headquarters in Stockholm.
"These people are hardly sleeping at the moment," Dr Julian Mamo says as he greets me at his San Pawl Tat-Targa home on Thursday.
Apart from a qualified epidemiologist, Dr Mamo is also a public health doctor; and as he describes his own profession, public health is not just a single specialty, but a whole category which includes environmental health, occupational health, health promotion; epidemiology, medical statistics, infectious disease control, health economics, health management, and much more.
If the GP or hospital doctor, cares for the individual patient, the public health doctor specialises in population approaches to dealing with health problems.
"Therefore, at this stage, no more one to one doctor/patient relations, but instead a continuous seeking out of appropriate strategies and services in an attempt to understand the evidence base of emerging risks, in order to choose the right therapies and strategies for the population at hand..."
In a nutshell, then, his is exactly the sort of expertise that comes into demand when there is a population-level health risk: just the sort of risk swine flu pandemic appears to pose. We settle for the interview in Dr Mamo's private study, and as we speak he shows me a press conference of the previous day, transmitted from the EDCD website.
Indeed the doctors look like they haven't slept in weeks: and to my untrained ears, the news they have to impart does not sound too encouraging, either.
"The problem is that it's still far too early to tell with any certainty how serious the pandemic is going to be," Mamo explains as we listen to an overview of confirmed cases – some 128 in total – from around the world.
"In cases like these, when we are studying a new virus, we are effectively dealing with the unknown. Whatever I tell you today will have to be revised by the time the article goes to print. In fact, the situation is changing not just day by day, but even minute by minute..."
Strange as this may sound, I find myself curiously drawn to the urgency of the unfolding crisis. Visions of Dustin Hoffman from the movie 'Outbreak' – all dolled up in anti-infection hazard suit – flit momentarily through my mind. As always, however, the reality is slightly more prosaic than made out by Hollywood.
"What they are doing at the moment is crunching out numbers," Dr Mamo says when I ask how global health experts are gearing up for the problem. "It's a numbers game, really. We need reliable information on how many global cases there are; how many confirmed fatalities; how many new cases in how many countries, and how far apart in time. Only then can we begin to answer the important questions, like what the mortality rate can be expected to be, or how fast the disease is spreading."
At the time of our interview, these numbers were only just beginning to filter through the international networks. The outlook would improve considerably by Saturday (yesterday), by which time official communications suggest that the new influenza strain is not as lethal as it was at first feared.
But on Thursday, both local and international speculation on the subject was bordering on the hysterical. While not dismissing the threat out of hand, Mamo is nonetheless upbeat about the future prospects.
"There will be deaths, inevitably," he acknowledges. "But this is also true of ordinary influenza. In the case of the so-called 'intelligent viruses', the chances of mortality could be higher; but so far we simply don't have enough numbers to make any accurate projections. Nor do we know about the actual mutation to say how it would affect, for instance, the transmission of the disease, or how virulent the new strain might be..."
One thing we do know, however, is that the spread of the disease has been faster than previous pandemics. "This virus moved from Phase Five to Phase Six in just 24 hours," Mamo comments. "That's very fast..."
At this point I feel the need to rewind a little, and ask Dr Mamo to go over the basics in purely layman's terms. For though I have watched 'Outbreak' and even read Michael Crichton's 'The Andromeda Strain', some of the terminology still sounds too much like Defcom 5 for my liking.
So out come trotting all the basic questions: What is a virus? What is a pandemic? Why it is different from an epidemic? When you talk of 'intelligent' viruses, do you mean the word in a figurative sense? And last but not least... are we all going to die?
Dr Mamo calmly takes the questions one by one.
"The first important thing is to establish what I mean when I talk about 'influenza'," he begins. "I am not referring to the one or two-day virus that a lot of people locally would mean when they use the word. People tend to say they have the flu when in actual fact all they have is a bad cold. But real influenza is different: it's five full days of fever, complete with aching muscles, and it leaves you completely debilitated. A person with influenza would not be able to go to work... except, unfortunately, at the very early stages when he would not be aware he had the disease. That's when the person might spread the disease to others..."
Even ordinary (i.e., non-swine) influenza is a serious and potentially lethal disease, at least for vulnerable persons such as newborn infants, the elderly, or people on kidney dialysis, or with other health problems.
Dr Mamo goes over the basics of how the influenza virus affects the human body.
"What it does is occupy all your entire immunity system, leaving you in a position where there is practically no fight left for anything else."
Ironically, in these cases the technical cause of death would not be the influenza at all, but a secondary infection such as bronchitis or pulmonary edema. However, the underlying cause would definitely be the virus that depleted the victim's immunity system, and not the secondary infection that ultimately killed him.
Having mutated, the disease we are referring to now is not exactly the same: but as Dr Mamo has already pointed out, it's still too early to predict exactly how it differs.
In a nutshell, however, what happened was basically this. Swine influenza – which we always knew could infect humans – experienced a mutation which enabled the virus to be passed from human to human.
The new disease has since spread from the source country, which brings Dr Mamo to the second answer to my list of questions.
"A pandemic is a large epidemic of an infectious disease, that spreads across many countries, or even the entire globe," he explains. As for the virus' presumed 'intelligence', Dr Mamo confirms the word was not intended literally.
"The thing to remember about viruses is that they are life-forms in their own right, and they have been around long, long before man set foot on this earth. In fact, we are newcomers compared to the influenza family of viruses. Anyhow, a virus survives by using its host for replication. Because a host (like man) develops immunity to a virus once infected, it cannot be re-infected with the same bug."
Dr Mamo explains that the so-called 'intelligent' virus – like the new strain of swine influenza – gets around this problem by mutation.
"The virus changes its genetic framework, slightly but continuously. In the case of influenza, new strains emerge due to a gradual process known as antigenic drift, in which mutations within the virus antibody-binding sites accumulate over time. Through this mechanism, the virus is able to largely circumvent the body's immune system, which may not be able to recognize and confer immunity to a new influenza strain even if an individual has already built up immunity to a different strain of the virus..."
So basically, even if you've already contracted the virus, you will not be immune to a mutated strain? Dr Mamo nods... and suddenly, the world appears a million times less safe a place to call home: crawling with bugs, each constantly mutating with the specific intention to outwit our immunity system.
But just as all hope looks lost, Dr Mamo reminds me that the viruses are not the only life-form to be hard at work on a 25-7 basis... and if people like me can carry on their lives without worrying about infection, it is largely thanks to the professionals who are hard at work guarding against precisely such outbreaks.
"The World Health Organization as well as the Centres for Disease control in the US and of the EU in Stockholm, have been constantly monitoring the detection of new influenza subtypes," he explains. Then he helpfully outlines the basic gradations of any new potential pandemics.
"When no new viruses are around in humans, even if types circulate in animals that have infected humans before, pandemic alert is very low (Phase 1). However, some slight cause for concern occurs if new virus subtypes circulate among animals (Phase 2)."
Examples would include the 2005 Avian Flu scare, which, although claiming numerous lives, never quite mutated to a human-to-human contagion.
"If human infection with a new subtype is found but no human-to-human spread is present, this is the initial cause for a pandemic alarm period (phase 3). If these cases increase with small clusters and limited human-to-human spread, then this may mean that the virus is not well adapted to humans (phase 4)."
Swine flu, of course, has already been "upgraded" beyond all these phases. As Julian Mamo puts it: "If larger clusters of cases are found, though still in localised areas, this is considered a substantial pandemic risk and labelled Phase 5. This was reached on the 29th April, with the new type A virus."
Full pandemic period is declared only when there is increased and sustained spread among people.
"This is the only phase not declared as yet," he adds – a state of affairs that has remained unchanged at least until yesterday. "To date, three of the five WHO regions have reported confirmed cases. However, in order to move to the pandemic preparedness Phase 6, the WHO criteria require community-wide outbreaks in at least two WHO Regions. The overall picture for the EU and EEA/EFTA countries is that of identified introductions of infection from Mexico and most probably the US, but no sustained secondary transmission or community outbreaks are identified to date."
So the news is not all bad... and it has since got slightly better. As more njumbers become available to researchers, a clearer picture is beginning to swim into view.
As Dr Mamo puts it: "Not that many deaths have occurred, suggesting that the 'case-fatality rate' may not be substantially raised from other influenza epidemics."
Still, now is not the right time to scale down international vigilance.
"It is obviously good news that the mortality rate is not so high, but we cannot really be complacent yet. Not all people may be equally susceptible or resist the virus and we may still find a different story in different continents. It would be unwise to lower our guards for now, but we will continue to keep our fingers crossed..."
Moreover, Dr Mamo is confident that no matter how serious the global pandemic, Malta would be able to hold its own in the event of a local outbreak.
"In a normal scenario, it should take up between four to six months to develop a vaccine for any new disease," he explains. "Being a small country we can take the necessary precautions to hold out until a new vaccine becomes available."
Having said that, there remains the thorny problem of distribution. Owing to its size, Malta is apparently not very high on the priority ladder.
"The pharmaceutical companies which distribute these drugs are used to handling orders for very large numbers, corres[ponding to much larger populations than ours. When they get an order for a few thousand, there will not be the same urgency to get them delivered.
"Nonetheless, with Malta's advent to the European Union in 2004, the case can be made that Malta is entitled to the same treatment received by any other EU members state.
---
Any comments?
If you wish your comments to be published in our Letters pages please click button below.
Please write a contact number and a postal address where you may be contacted.
---


All the interviews from Reporter on MaltaToday's YouTube channel.
---
EDITORIAL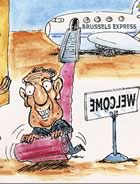 Reinstate those voters
---
---