| | |
| --- | --- |
| News | Sunday, 03 May 2009 | |
Police are keeping 15 persons under arrest after three operations in which some 900 grams of heroin were found in a refrigerator, along with cocaine and ecstasy finds.
The first operation was carried out yesterday morning with police acting on information of a drug hideout in a farmhouse in the limits of Zejtun. The farmhouse was the residence of a man, 48, "known to the police", who lived there with a woman, 43.
The police said its operation lasted hours as officers combed the place to finally find 900 grams of heroin tucked away in the external compartments of two refrigerators. Various other drug paraphernalia, including a balance, were found.
Duty magistrate Doreen Clarke is leading the inquiry. The two persons were arrested and taken in for questioning.
The two other operations were carried in connection with parties that were held on Friday night in Ta' Qali, where 13 people were arrested – eleven were men whose ages ranged from 17 to 33, and two women aged 19 and 23.
They were found in possession of unquantified amounts of cocaine and ecstasy. All 13 were put under arrest and expected to be charged on drug possession charges in the coming days. One of the persons will be charged with ecstasy trafficking.
---
Any comments?
If you wish your comments to be published in our Letters pages please click button below.
Please write a contact number and a postal address where you may be contacted.
---


All the interviews from Reporter on MaltaToday's YouTube channel.
---
EDITORIAL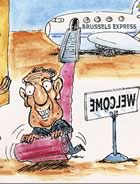 Reinstate those voters
---
---