| | |
| --- | --- |
| News | Sunday, 03 May 2009 | |
Pressure is mounting on the key witness who secured the Lockerbie prosecution's conviction of Libyan Abdelbaset Ali Mohmed al Megrahi.
Tony Gauci is the Maltese shopkeeper whose identification of Megrahi as the purchaser of clothes at his shop, allegedly packed in the suitcase carrying the Lockerbie bomb, was central to his conviction. During the investigation, clothing fibres with a label "Made in Malta" were traced to fragments of a Samsonite suitcase believed to have contained the bomb. The clothes were traced to Tony Gauci, who then became a key prosecution witness.
But a three-year investigation by the Scottish Criminal Cases Review Commission into whether Megrahi suffered a miscarriage of justice has now sent his case back into appeal, and the Libyan's lawyers claim there is now substantial evidence undermining the credibility of Gauci's testimony.
Their allegations are central to the appeal against his conviction for the murder of 270 passengers, crew and townspeople when Pan Am Flight 103 blew up over Lockerbie on 21 December, 1988 – a case which sealed Libya's pariah status as a sponsor of terrorism, and which could now turn into nothing less than a massive farce that wrongly convicted Megrahi, a former security official with the Libyan Arab Airlines (LAA) based in Malta.
Apple short of a picnic
It seemed a concluded affair. Megrahi had been convicted by a special court in the Netherlands of murder on 31 January, 2001 and sentenced to 27 years' imprisonment. His co-accused, an LAA station manager at Luqa airport, Al Amin Khalifa Fhimah was acquitted.
But Megrahi's lawyers then successfully won the right to have the case reviewed for a new appeal, in an investigation that would produce some astounding revelations. Lockerbie, it seemed, was about to return to haunt the "tricky" Malta witness.
In October 2005, new doubts were cast over Gauci's testimony when the former Lord Advocate – the man who issued the arrest warrant for the Libyans, Lord Fraser of Carmyllie – described Gauci as "not quite the full shilling" and "an apple short of a picnic" in an interview with the Times of London.
"Gauci was not quite the full shilling. I think even his family would say he was an apple short of a picnic. He was quite a tricky guy, I don't think he was deliberately lying but if you asked him the same question three times he would just get irritated and refuse to answer," Fraser said.
The admission attracted grave reactions. William Taylor QC, the man who leads Megrahi's defence, said it was "scandalous" that Fraser had accepted to present a witness whose credibility he doubted.
"A man prosecuting in the criminal courts in Scotland has a duty to put forward evidence based upon people he considers to be reliable. He was prepared to advance Gauci as a witness of truth in terms of the identification and if he had these misgivings about him, they should have surfaced at the time. The fact he is now coming out many years later after my former client has been in prison for nearly four and a half years is nothing short of disgraceful. Gauci's evidence was absolutely central to the conviction and for Peter Fraser not to realise that is scandalous."
When MaltaToday had contacted Gauci back then, the witness sounded annoyed at the new revelations, clearly not eager to rekindle the ordeal he had been through. "I am not interested in what this man said. What matters to me is what the Court said and that's it…. He can say what he likes. They know what was said in Court. The case is closed and that's it now."
Iranian origins
In 2007, a top-secret document passed to the Scottish review commission was revealed to have confirmed beyond doubt the bomb timer was supplied to countries other than Libya, and that the attack was more likely the work of Palestinian terrorists, again raising questions on the testimony of Malta key witness Tony Gauci.
The document, passed to the Commission by a foreign power, gives "considerable detail" on how the use of a small bomb concealed inside a radio-cassette recorder was consistent with Palestinian terrorists rather than Libyans.
According to newspaper Scotland on Sunday, the documents contained considerable detail about the method used to conceal the bomb, which is linked to the Popular Front for the Liberation of Palestine – General Command (PFLP-GC), the first suspects in the case.
It is believed that Lockerbie's Semtex bomb was stolen from a PFPL-GC cell operating in Neuss, Germany. The cell was cracked by German secret police, who were told by the Jordanian bomb maker Marwan Khreesat, that a fifth device had been removed from the flat. Iranian defector Abolghasem Mesbahi, who provided Germans with intelligence, had already claimed in 1996 that the bombing been ordered by Tehran, not Tripoli.
Megrahi's lawyers were now claiming a retired Scottish police chief had signed a statement saying the CIA planted the tiny fragment of circuit board crucial in convicting the Libyan.
A $2 million deal?
Once again, new revelations in 2007 alleged that Gauci was offered a $2m reward in return for giving evidence. Megrahi's defence team said they believed Gauci may have received payments and that they would be pressing for full disclosure of these payments, and the release of a potentially vital US document which is thought to cast doubt on official accounts about the timer allegedly used in the bombing, at an appeal hearing next week.
The secret document is believed to dispute prosecution claims that al-Megrahi used a digital timer bought from a Swiss company, Mebo, and then planted the bomb on a flight from Malta to Germany – a disclosure which would fatally undermine his conviction.
In a rare comment to the press, the brother of Tony Gauci broke his silence, according to a report by The Scotsman in which he claimed their lives have become "intolerable" amid growing interest by the press. "We are under very heavy pressure here. The press want to photograph us, everybody wants to interview my brother, we have no privacy. When we step out the door, there are people with cameras. Our lives are intolerable here," Paul Gauci had said.
The newspaper even reiterated the popular claim that Gauci was planning a move to Australia with his brother, who was also on the witness list but was not called to give evidence. Today, Gauci is still apprehensive about the sensation surrounding the Lockerbie case after his evidence was last year called in question. The Gauci family had stepped up security with CCTV surveillance around the house and has refused to answer any questions from the press.
A coached witness
This week, Megrahi's lawyers announced that their new evidence showed Gauci had been "coached and steered by Scottish detectives" into wrongly identifying the Libyan, claiming Gauci was interviewed 23 times by Scottish police before giving the evidence that finally led to the conviction for the bombing.
Megrahi's lawyers will claim that in nearly two dozen formal police interviews, Gauci gave contradictory dates of purchase, changed his account of the sale, and on one occasion appeared to identify the Palestinian terrorist leader Abu Talb as the purchaser. Gauci's evidence is made unreliable by "undisputed factors", the appeal court will hear. They include an "extraordinary" delay in Gauci recalling the events of December 1988 and naming Megrahi; the "extraordinary amount of post-event suggestion to which the witness was subjected"; and his exposure to photos of Megrahi.
The case against Megrahi also hinges on Gauci's claim that the clothes allegedly packed into the suitcase bomb were bought on 7 December – the only day when Megrahi was in the area. Megrahi's lawyers say they can now prove they were bought up to two weeks before then, when the Libyan was not in the country.
---
Any comments?
If you wish your comments to be published in our Letters pages please click button below.
Please write a contact number and a postal address where you may be contacted.
---


All the interviews from Reporter on MaltaToday's YouTube channel.
---
EDITORIAL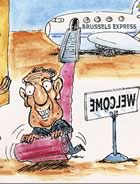 Reinstate those voters
---
---