| | |
| --- | --- |
| Letters | Sunday, 03 May 2009 | |
Illegal Immigration in this country has become a contentious political issue. There are those who argue, with some justification that the island cannot reasonably continue to shoulder the burden of the constant waves of illegal migration from North Africa. On the other hand, there are those who argue equally forcibly, and with unequivocal justification, that the current policy of detaining illegal migrants in bleak detention centres under Spartan conditions is inhumane. In fact this has drawn upon us the full force of condemnation from international aid organizations such as Medicines Sans Frontiers, as well as other prestigious NGOs, including human rights lobbyists within the European Union. The reality is that the overwhelming majority of the migrants had never intended to come to Malta in the first place, and would if given the first opportunity leave for mainland Europe, which after all would have been their primary destination target all along.
Despite the political rhetoric and posturing, it appears that the European Union is very unlikely to ease our plight by way of compulsory burden sharing among other EU Member States. Thus, it is clear that no measure will be undertaken so as to induce pan EU solidarity to relieve the problem of illegal migration on countries such as ours where the impact is grossly disproportionate, given the relative population size and physical area. In view of the persistent laconic response of the European Union towards Malta's predicament, the best practical solution, therefore, is to grant the migrants a Maltese EU Passport, subject of course to the verification of their identity. Following medical screening leading up to the provision of a clean bill of health, they should also be provided the facility to then travel onwards to Europe.
---
Any comments?
If you wish your comments to be published in our Letters pages please click button below.
Please write a contact number and a postal address where you may be contacted.
---


All the interviews from Reporter on MaltaToday's YouTube channel.
---
EDITORIAL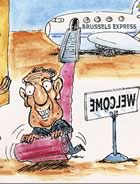 Reinstate those voters
---
---