| | |
| --- | --- |
| News | Sunday, 26 April 2009 | |
David Darmanin
Fisheries tycoon Charles Azzopardi and his brother Anthony has entered into partnership with the developers of Fort Cambridge in Tigné with a €17 million capital injection.
GAP Holdings chairman George Mifsud told this newspaper that Tigné Skies, Azzopardi's company, was not replacing any other investor into the project, but had entered to help finance the project with new capital. Muscat said he was "pleased the new investor has a common business philosophy and the same determination to complete this project on time without compromising quality."
In 2007, GAP collected €35 million through a public bond issue, to mature by 30 April 2013.
The 341-apartment Fort Cambridge has been met with protest from environmentalists since original development plans were submitted for a 16-storey building, but were later allowed to increase to 23 storeys.
Permit delays also caused anxiety among some public investors, who were concerned about the possibility that the development would be completed in time for the settlement of the matured bonds. The new partnership now says the development wil be completed in 2011.
Muscat said that over 225 units of the 341 have been sold, but it was not specified how many of these sales were still pending on promise-of-sale agreements.
Four levels of garage space have been completed and at the transfer slab is being cast so that in May, works on the shell structure of the apartments can begin.
Contractual obligations allow the company up to ten years to complete the restoration of Fort Cambridge. The company said it has removed all alien structures and obtained the fort's original plans from the UK. This will be followed by a detailed fort restoration report that will be submitted for MEPA's approval.
---
Any comments?
If you wish your comments to be published in our Letters pages please click button below.
Please write a contact number and a postal address where you may be contacted.
---


All the interviews from Reporter on MaltaToday's YouTube channel.
---
EDITORIAL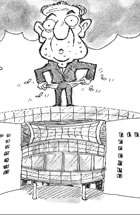 A matter of life or death
---
---