| | |
| --- | --- |
| Mepa Watch | Sunday, 26 April 2009 | |
Case Details
The last week was characterised by a MEPA decision concerning a full development application to sanction an extension to an approved farmhouse in ODZ, as well as the sanctioning of a tennis court which is located within the surrounding land precincts.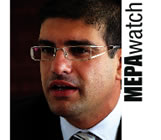 The site is located just outside the development boundary zone in an area known as Ta' San Andrija in the limits of Siggiewi. The site location falls within the remits of the North West Local Plan and as such, is designated as an area of agricultural value. A number of permits have already been issued in the past, amongst which one finds a permit to construct a swimming pool. Of recent, an enforcement was issued on the site in question since it was established that the works carried out recently were not strictly in accordance with the approved permits, to which end applicant had little option but to submit an application to sanction the works, which works included a tennis court. According to MEPA's directorate, the extensions measure 354 square metres, whereas the footprint which was covered by a permit equated to 230 square metres. According to this interpretation, it follows that the proposed additions to be sanctioned amount to approximately an additional 155 square metres over and above the area which was technically approved.
Case Officer's comments
The case officer insisted that the proposal should be objected on several counts. In his report, it was argued that the proposal under review violates Structure Plan Policy does RCO 2, which states that no form of urban development should be permitted within Rural Conservation Areas.
To that end, the case officer opined that the proposed development would represent unacceptable urban development in the countryside. This rationale was also tied to another Structure Plan Policy, SET 11, which underlines that urban development outside existing and committed built-up areas should be prohibited. The case officer made further reference to Structure Plan Policy SET 12. This policy advocates that unless there are no specific reasons from a planning point of view as to why development cannot be located in an area designated for development or in an existing built-up area, such development should be prohibited in the countryside. To further strengthen his arguments, the officer went further and explained that the surrounding area boasts panoramic views, and thus the proposed development would contribute to the further massing of an existing building, resulting in a disturbed skyline.
DCC Board Decision
The DCC voted in favour of the proposal regarding the sanctioning of the works with exception to matter relating to the tennis court, and this on condition that a bank guarantee of €50,000 is deposited in favour of MEPA to ensure the removal of the tennis court.
On the other hand the built extensions were approved since it resulted, following an interpretation of the available 1967 survey maps, that the footprint of the building was in a way committed on these maps. Also, it must be pointed out that the Board was requested by the applicant to note that all extensions being contemplated are located at ground floor level and concealed from private roads. Hence, it was understood that there was no contention with respect to the skyline.
Robert Musumeci's observations
It must be reminded that buildings which were constructed prior to 1967, and appear on the said survey maps, are considered legal. In this case the DCC referred to the available 1967 survey maps and reasoned out that a footprint which was in existence prior to 1967 constitutes a vested right which permits the reinstatement of such footprint, irrespective of active Structure Plan Policies. In simple terms, the DCC reasoned out that if the footprint of a particular development was committed prior to 1967 (and therefore if it were still in existence, it would have been considered as legal), there should be no reason as to prohibit the reinstatement of that part of footprint with a new building. This rationale will certainly consolidate any conflicting interpretation which may have characterized similar developments.
On the other hand, the DCC decided to refuse the tennis court, asking applicant to submit a bank guarantee to the tune of EUR 50,000 to ensure its removal. It must be underlined that to date, there is no specific policy which regulates applications of tennis courts in conjunction with farmhouses which are located in ODZs. Since MEPA's inception in 1992, there was only one occasion when MEPA granted a tennis court within the precincts of a dwelling which is located in ODZ. This was on 26 August 2003. Incidentally, the 2003 case was also being recommended for refusal by the Directorate on more or less, similar counts, though finally approved.
---
Any comments?
If you wish your comments to be published in our Letters pages please click button below.
Please write a contact number and a postal address where you may be contacted.
---


All the interviews from Reporter on MaltaToday's YouTube channel.
---
EDITORIAL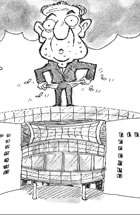 A matter of life or death
---
---