| | |
| --- | --- |
| Saviour Balzan | Sunday, 26 April 2009 | |
Celebrating five years in Europe and Saviour Balzan discusses change
Perhaps there is no way of stopping change after all.
The inevitability of change is staring straight in our faces and we are unable to bring it forward or stop it.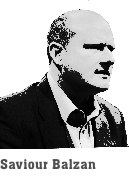 I am looking for examples. I guess this one is good to start with. As everyone rants about new cars and second-hand cars, VAT or no VAT on registration tax, ugly and nice and fast cars, more pollution and the need for a better public transport and taxi service… the truth is that our dependence on the four-wheeled motor is absolute.
And after last year's standoff with the bus drivers and tax drivers, nothing has changed or improved. Buses are still exclusively used by those who do not own a car, or unable to own one, and the vast underclass. It has retained its mediocrity, and the use of private transport has been on the increase even though the cost of owning and running a car are far higher than ever before.
The love for the car has not diminished. And with it the traffic jams, the toxic fumes and the pungent air. The mere fact that fumes from cars lead to serious lung and cardiac diseases seems to have no apparent bearing on whether the powers that be introduce restrictions on cars in our towns.
Most politicians discuss whether to remove VAT on registration tax. No one debates the negative effect of cars. Least of all myself, someone who uses and loves cars.
And even though in both Malta and Gozo, millions are spent in purchasing cars of all sizes and colour, the state of our roads remain completely dreadful five years after EU membership. There seems to be no success in getting our asphalt companies to terms with building a proper road that outlives the pressures of construction trucks. In every other country in the developed world, the construction and upkeep of roads is considered to be something that is… actually possible.
Somehow we cannot get it right. Somehow we continue to get it wrong. Who is to blame? The obvious answer to this is rather simple. Blame it on the politicians.
But I have a funny feeling we are all to blame for this state of affairs. Our nonchalance and inability to accept this has led to this widespread feeling of incompetence. The majority of the Maltese middle-class have made it their business to invest in grumbling and pour scorn over the fact that in Malta, everything seems to move anti-clockwise.
In reality we cannot continue to imagine that nothing functions in Malta. But when it comes to the crunch, the same middle classes continue to lament, and do little or nothing to bring about change. Most feel helpless. Their sensation of feeling powerless is aggravated by the fact that when they remember they have been in Europe for five solid years, they note that the quality of their life has diminished not improved.
Surely there are a number of issues which have generally improved. Legislation that would never have seen the light of day has been enacted and implemented because there have been clear obligations on EU members. The possibility of Maltese working for the Commission has finally materialised and with it the possibility of receiving fat salaries. To some few hundreds, Brussels has been their financial saviour.
Other small advantages, such as the Schengen agreement and being treated as an equal EU citizen are noteworthy – though there is no such thing as being equal to a French or a German if you are not French or German.
But the long and short of total unadulterated EU accession is that the real imaginary benefits at street level have been insignificant and hardly felt. Manufacturing has been hard-hit, companies such as ST Micro have been downsized because of their weakening position due to the fact that they trade in dollars, small-sized companies have not been able to compete with the open market, and inflation has gone unchecked.
The hand on heart promises of funds from Europe have been lost in an accounting exercise that is difficult to keep track of. And when funds do arrive they have been matched by local taxes and they have not trickled down to the people.
To make matters worse, the financial crisis has made everyone's position more untenable from a business perspective – although the euro has cushioned some of the more negative effects of the credit crunch.
Five years after accession, us Maltese and Gozitans can hardly be described as proud European citizens. When it came to the one national problem with an international flavour, irregular migration from Africa, Europe was unwilling to offer a real helping hand. For once, both local political parties are unified in describing the immigration problem as the number one problem – but parties have garbled solutions to tackle this challenge.
The conclusion is that come June, voters are naturally going to be very reluctant to vote. To them their only way of protesting and recording their opposition is by not voting. When you meet up with people in parties, in cafeterias and in homes, they have little time to discuss politics. They are more interested in debating more mundane topics. They could not give a hoot if Louis Grech or Vince Farrugia are elected or not to Europe. They quite correctly feel, that nothing will change.
When they sit down to have an espresso, their first observation is about the weather, the heat or the quality of the coffee and the price; or whether they like the last stupid film of Julia Roberts and whether they will be going abroad this summer, or which private lessons their son and daughter will be taking after failing their A-levels.
Beyond the empty declarations from politicians, the vast majority are more concerned about getting to grips with their life.
Normal lives are all about driving without having to suffer a puncture or finding an ATM that dispenses money, and not receiving an estimated water and electricity bill from Enemalta of some €3,800!
Perhaps it is high time we climb down from our high horse and start talking about the real things.
I for one could stop talking for a moment about Gonzi and Muscat to evolve into a food critic or an aquarium specialist.
But then I guess we do what we are best at doing. Grumbling and moaning, I truly believe is something I am very good at.

Opened in 1834, the Antica Focacceria San Francesco is one of Palermo's oldest restaurants. It sells a wide range of authentic Sicilian cuisine, with pastas, pizzas, seafood – pretty much every specialty seems to be covered. They also offer a selection of dishes from around the world. The ground floor is a tavola calda - a fast food café, serving ready-made food and snacks and with a relatively limited menu. Upstairs there are a couple of floors of restaurant, where the choice of dishes is much wider and the food made to order. The restaurant thus caters for both casual dining and a more full-on dining experience. I would probably suggest you try Spaghetti alla Norma, a sicilian specialty. From the antipasti, go for panelle, which are fritters made from chick pea flour.
This week's dinosaur of the week is undoubtedly the Broadcasting Authority. The MBA continues to serve the interests of the two political parties and insists on regulating only one TV station, TVM. In other words, it ignores the political stations One and Net TV and the private stations Smash and Favourite Channel, because according to their warped philosophy they balance each other out – TVM does not.
---
Any comments?
If you wish your comments to be published in our Letters pages please click button below.
Please write a contact number and a postal address where you may be contacted.
---


All the interviews from Reporter on MaltaToday's YouTube channel.
---
EDITORIAL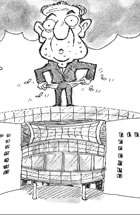 A matter of life or death
---
---