| | |
| --- | --- |
| Editorial | Sunday, 26 April 2009 | |
MaltaToday's front-page story last Sunday revealed that the Maltese government had told Brussels it had no plans to introduce national screening programmes for cervical and bowel cancer. Without beating about the bush, the reason why is simple – money. Money that was spent elsewhere, is now no longer available for a life-saving intervention that should be the norm for any EU member state.
And while we're at it, this is also the money that is instead being earmarked for fanciful projects that only politicians seem to be raving about.
One shudders at the state of affairs that plagues our health system. Upon being appointed as social policy and health minister, John Dalli – a former finance minister – instantly pounced upon the troubles that beset the system. One of his first pronouncements concerned the financing of this behemoth. He said that a health fund – long pledged in earlier budgets – would be created to solely finance the health system. Malta is still lacking a health fund, as money from National Insurance payments finances both the entire social security system, and health.
But the bulk of these payments still goes to the country's burgeoning pension bill.
Tied to this issue is the question of who deserves to make use of the wide array of services our health system offers, and whether the services themselves that are given gratis are too much. On this, Dalli had in fact slammed the practice of private insurance firms compensating patients who take up a bed at Mater Dei Hospital instead of claiming the same service in a private hospital, calling it "daylight robbery". It is of course time to ask ourselves whether the practice of means-testing can help us achieve a more just and socially equitable apportionment of our free health service, especially when it comes to treatments that could easily be catered for by private hospitals such as minor surgical interventions, amongst others.
But to get to this stage, politicians have to bite the bullet in the interest of future generations. This is indeed the worrisome nature of Maltese politics and the controversy surrounding the financing of the health system.
As prime minister, Alfred Sant had introduced the much demonised 50c charge on prescriptions for government medicines – a practice that was ultimately designed to discourage frivolous consumption of free medicines. Sant's measure had a particular direction. But it was one that fell foul of the malaise that grips Maltese politics. Despite his brave rhetoric, Dalli himself recently excluded imposing any fees or charges on public health services, an issue which dominated the last week of the electoral campaign after Labour revealed a Ministry of Health report that carried the Cabinet's agreement in principle with health fees.
Prime Minister Lawrence Gonzi reacted back then saying he would resign if his government introduces any health costs. But here lies the pertinent question: why is the costing and charging of certain health services still considered taboo in Malta?
This newspaper cannot agree with the political direction of the Prime Minister on this matter.
It is high time that we take a serious look at the state of our health system, after millions were poured in the construction of Mater Dei hospital, which today costs an estimated €120 million to run every year. The national health system must be costed and our government must embark on a radical way of ensuring the system can stay sustainable.
As the unacceptable waiting lists on minor operations such as cataracts render the whole concept of having a 'state of the art' hospital almost a farce, it is here that we strive to understand why Malta is not planning to have a national screening programme for cervical and bowel cancers.
This newspaper has chronicled a litany of abusive procurement contracts, some for the supply of services to Mater Dei itself, that pay witness to the incredible wastage of resources and money within the health system. Stories abound of how doctors employed with the State double up as consultants in private hospitals because the salaries in the NHS are not sufficient to keep doctors in full service of the government. Or how thousands are in receipt of free medicines when this is clearly the result of a carte-blanche attitude that can only be prevalent in a system that does not care for taxpayers' hard earned cash.
Clearly, answers to these conundrums can only lead to the reason, mentioned earlier on, of why Malta has taken so long to set up its national breast cancer screening programme, and why it still has no plans for a cervical and bowel cancer screening programme. The cash is there, but not for interventions that save peoples' lives.
With all their bravado in promising unlimited free health for all, politicians would do worse than to stop and look at the reasons why the inefficiency in our health spending, today, is a matter of life or death for many people.
---
Any comments?
If you wish your comments to be published in our Letters pages please click button below.
Please write a contact number and a postal address where you may be contacted.
---


All the interviews from Reporter on MaltaToday's YouTube channel.
---
EDITORIAL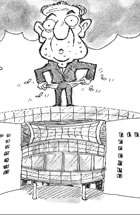 A matter of life or death
---
---