| | |
| --- | --- |
| News | Sunday, 26 April 2009 | |
The education ministry yesterday condemned the teachers' union's order to strike next Thursday, joining the Church school authorities in branding the action irresponsible.
The ministry claims the MUT's demands would cost €15 million every year. "We cannot understand this industrial action since the union knows many of the 2007 agreement's measures have been implemented," the ministry said.
The ministry played down statements by the MUT president John Bencini, who said the college network system had pushed education backwards. It defended the work practices it introduced and added that 600 new workplaces had been created in the educational sector, 420 of which were for teachers and a 170 new places scheduled for the near future.
"The ministry fully condemns the MUT for its exaggerated demands which makes one doubt whether it has really down its calculations and considered the effects of these demands on the country's economy."
A statement issued by the secretariat for Catholic education from the Archbishop's Curia said that the industrial dispute was unjustified, and called for the suspension of the union's directive for state and church school teachers.
The union accused church authorities of dragging their feet over a collective agreement for teachers, while government has not yet started talks on an addendum teachers wanted included in the 2007 collective agreement for state school teachers.
On its part, the church secretariat said it had invited the MUT to discuss the collective agreement shortly after the union had signed the state school agreement with governemnt in July 2007.
"However, the MUT took its time for these discussions to commence," the statement claimed. In spite of delays, several meetings were held with the union and "the agreement was about to be signed. The last draft the union sent to the secretariat was on 2 April in the afternoon."
But on 6 April, the MUT council declared an industrial dispute with church schools. "Worthy of note is that the agreement had not been yet concluded and that there had still been some pending issues to discuss. Clearly, it was not possible for Church authorities to study the draft agreement in a matter of three days."
The secretariat said that although the collective agreement has not yet been signed, church school teachers have been given a raise in their allowance last January.
In view of such reasons, the church called on the MUT to suspend Thursday's strike as its complaints were not justified.
---
Any comments?
If you wish your comments to be published in our Letters pages please click button below.
Please write a contact number and a postal address where you may be contacted.
---


All the interviews from Reporter on MaltaToday's YouTube channel.
---
EDITORIAL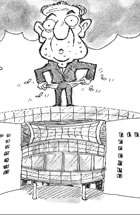 A matter of life or death
---
---