| | |
| --- | --- |
| News | Sunday, 26 April 2009 | |
A British couple claimed to have seen Madeleine McCann playing in a square in Malta last March, the Sun reported.
The tourists were so sure it was her that they tailed her but lost her in a maze of streets. Brian White, 72, said he couldn't stop tormenting himself for not doing enough. The pensioner and wife Glenice noticed the girl in capital Valletta on 14 March, with a dark-skinned couple. He said the couple "grabbed the girl and hurried off" when they saw they were being watched. White also said he informed the Malta police.
The alleged sighting is the latest in a spate of 14 reported in Malta. Witnesses described seeing her in Valletta, Sliema, Mdina and Marsascala.
A new suspect in the case is believed to have been seen by witnesses in the day before McCann vanished on a family holiday in Portugal. Parents Gerry and Kate have spent months combing Portuguese police files on the case and believe the man could be vital to finding Maddie. He is said to be of Mediterranean appearance and in his late 20s or early 30s.
---
Any comments?
If you wish your comments to be published in our Letters pages please click button below.
Please write a contact number and a postal address where you may be contacted.
---


All the interviews from Reporter on MaltaToday's YouTube channel.
---
EDITORIAL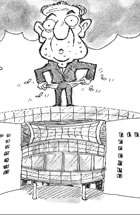 A matter of life or death
---
---