| | |
| --- | --- |
| Film Review | Sunday, 26 April 2009 | |
There is something disarmingly refreshing about witnessing a debut. We can almost forgive the naïve mistakes: watching beginners is often more enjoyable for the fibs and fumbles they make along the way than for the actual content of their work. With established artists this is of course different, looking back, we can take pleasure in pinpointing unripe similarities between their juvenilia and their later work, which would either sputter away or blossom into a more clearly refined and confidently pitched idea or aesthetic direction.


It is the comfort of many an aspiring writer that James Joyce's earliest surviving example of writing is hardly the work of a glittering prodigy (a patchy school essay titled 'Trust not appearances' that offers no indication that he would one day become a literary demigod), while the rapid development of John Keats' poetic talent throughout his all-too-brief life is a compelling narrative in itself. And who doesn't get a frisson out of re-experiencing the many incarnations of David Bowie, Madonna and (to a lesser but no less spectacular extent) Marilyn Manson? Or watching Dustin Hoffmann in The Graduate, Al Pacino in the Godfather, Robert de Niro in Taxi Driver?
Few literary debuts have been more incendiary than Chuck Palahniuk's Fight Club, which first appeared on the shelves in 1996 and quickly garnered the support of a cult audience. Its got a huge boost in 1999, when David Fincher - auteur director who was then largely known for Se7en, The Game and a string of music videos - wielded his snazzy-but-pitch-black magic to adapt the book, casing a powerhouse trio of Brad Pitt, Ed Norton and Helena Bonham Carter to bring Palahniuk's unforgettably vivid characters to life. No other films were made from Palahniuk's subsequent novels until now, which is surprising considering the gradual success of Fight Club among the popular consciousness (Empire Magazine recently nominated Tyler Durden, Brad Pitt's anarcho-Mr Hyde, as the greatest movie character of all time). But it is Palahniuk's fourth novel, Choke (which 'does for sex what Fight Club did for violence') that finally gets a cinematic treatment.
Its protagonist, Victor Mancini, is a typically Palahniukian blend of pre-millenial neuroses: having dropped out of medical school, he gets by working as a 'historical interpreter' ("not a tour guide!") at a park that simulates Colonial America, in between hospital visits to his Alzheimer's-ridden mother Ida (Anjelica Huston) and his sex-addiction support group: both of which he frequents with flailing interest. But while visiting the bizarre old people's home his mother has been thrown into one day, he meets Paige Marshall (Kelly McDonald) a nurse who suggests a radical procedure that could potentially cure his mother's plight. Since the procedure involves the two of them having sex (something about tissue or whatever), Victor assumes he might as well go with it, until something remarkable happens: he is unable to achieve an erection because maybe, just maybe, he might have genuine feelings for Paige. But why 'Choke'? In the midst of all these grotesque details, one almost forgets the conceit that gives the book and film its titles. Victor, riffing on the old Chinese proverb that if somebody saves your life, they're responsible for you until their dying day, makes a habit out of choking on his food in restaurants on purpose, in order to trigger people's saviour complexes. And sure enough, they send cash regularly, grateful for the new lease of life Victor has given them.
I used to be a huge fan of Palahniuk's books in my late teens, and looking back on them now, there's definitely a lot to sneer at: the repetitive, grotesque conceits, the equally flat and repetitive characters, the lazy, glib literary style (masked as 'minimalism') and the posturing, sub-Nietzscheian philosophising. But in the case of Choke, the mix is messy while still being charged with a kind of energy that first-time director Clark Gregg (who also appears in the film as minor antagonist Charlie) doesn't quite manage to hold together, let alone fully bring across, on screen. Choosing such a tangled novel as your directorial debut is still highly commendable however, and Gregg, at the very least, manages to keep the story more or less coherent, aided by masterful performances from Rockwell and Huston. Rockwell in particular is a perfect fit for Victor: his ratty face seems built into the amoral (though still somehow likeable) loser and as the film progresses and tones in shift are brutally sharp, he adapts with great credibility. Rockwell has always had great potential, and while his leading role in Confessions of a Dangerous Mind may have been a bit of a false start, this could be the film that marks him out as a notable comic talent.
Gregg is no Fincher, and he can't be expected to effect as iconic a cinematic transformation as Fight Club. The jaunty story gets an equally jaunty treatment (both in terms of pacing and quality), which would not have been possible if an established director and/or studio (Fox Searchlight are a mercifully 'artsy' branch of their mother-company) would have gotten their filthy mitts on the novel.
Choke will be showing at the St James Cavalier Cinema tonight and on April 27 and 28, from 19:00.
---
Any comments?
If you wish your comments to be published in our Letters pages please click button below.
Please write a contact number and a postal address where you may be contacted.
---


All the interviews from Reporter on MaltaToday's YouTube channel.
---
EDITORIAL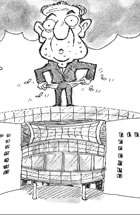 A matter of life or death
---
---