| | |
| --- | --- |
| News | Sunday, 19 April 2009 | |
James Debono
Still covered by earth and vegetation 35 years after being saved from encroaching development by the Museums Department, a small hypogeum in Santa Lucija could become accessible to visitors very soon.
Santa Lucija mayor Frederick Cutajar has announced the council is working on an application for EU funding for the project. Through this funding the council will hire archaeological professionals to determine whether further excavations are necessary on the site.
The council is also planning a heritage complex for the site which, it is hoped, would turn Santa Lucija into a main tourist attraction.
Nathaniel Cutajar, deputy head of the Superintendence for Cultural Heritage, confirmed that the Sta Lucija council and the Superintendence have discussed ways of collaborating to ensure the site is conserved and made accessible to the public.
He said the pre-historic remains at Sta Lucija were "an important, but little studied Neolithic archaeological site."
The site consists in a large underground funerary chamber, hewn out of the rock. Since human remains were discovered within the chamber it was established that the site was not a temple, but one used for burial.
Since the site was not subject to a systematic archaeological study and is still poorly understood "it still merits further study, documentation and investigation," Cutajar told MaltaToday.
The site, which is surrounded by a wall, remains inaccessible to the general public.
"In 1973 and in the following years most of the effort spent on the site by the museum authorities were concentrated on ensuring it was not destroyed by the encroaching modern buildings. Thanks to their intervention the site was saved from physical destruction," Cutajar said.
He acknowledges that no attention was given to visitor access. "The site itself is in fact difficult to appreciate as it is largely covered with earth and vegetation," he said.
The Superintendence views the interest shown by the council very positively. "Local Councils, like NGOs, often play an important role in ensuring that archaeological sites are protected, studied, documented and managed in the interest of the public," Cutajar said.
Heritage sites managed by local councils include the Xarolla in Zurrieq. The Superintendence has also cooperated with local councils in its archaeological investigations at Mgarr ix-Xini and Ghar Ix-Xih in Xewkija and Sannat, in Gozo. It is also investigating a new archaeological site in the Zebbiegh area in collaboration with the Mgarr council.
---
Any comments?
If you wish your comments to be published in our Letters pages please click button below.
Please write a contact number and a postal address where you may be contacted.
---


All the interviews from Reporter on MaltaToday's YouTube channel.
---
EDITORIAL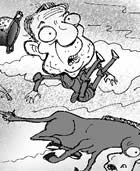 Tilting at wind farms
---
---