| | |
| --- | --- |
| Editorial | Sunday, 19 April 2009 | |
There are a number of reasons why Malta must seriously invest its energies into harnessing alternative sources of renewable power.
Placing the least important first, among our current EU commitments targets is that of achieving 10% alternative energy production by 2020. Malta's current output of energy from renewable sources stands at just over 0.2%: a statistic which leaves us with 11 years to expand our present capability by 9.98%.
This might explain the government's sudden interest in wind energy, which surfaced at a time when Malta was still undertaking the fiscal and infrastructural reforms in preparation for eventual EU accession.
Toying with various models of wind energy production has already translated into numerous consultancy reports on the dubious feasibility of deep-sea offshore wind farms. But the government's experimentations have not been to date translated into a workable, cost-effective wind energy strategy for Malta.
There are two other serious considerations to be borne in mind. One is the sheer expense of our current power regime, as can be attested by the recent hike in utility bills. Besides, given the eternally fluctuating international price of oil, it makes little sense to be so totally dependent on such an expensive, finite and ultimately unhealthy resource.
This last consideration provides the most compelling reason of all to take our EU energy commitments seriously. Last June, a wide-ranging report by the Today Public Policy Institute (TPPI) showed how the high level of use of fossil fuels in Malta is leading to increased health risks, including lung cancer and heart disease.
In view of all this, it remains surprising how the government has concentrated mainly on one out of several available options for renewable energy – and even then, focusing only on the least technologically viable.
In 2006, the Malta Resources Authority issued calls for interest in offshore wind projects, but it turned out that the technology to operate such farms at the depths proposed by the MRA did not even exist.
Significantly, the MRA report also established that objections to near-shore farms (throughout the world, offshore wind farms are constructed at depths of less than 20 metres) came primarily from the Malta Tourism Authority.
The MTA has its reasons: the aesthetic impact of wind turbines so close to popular bathing sites cannot be discounted in any serious, holistic strategy. But at this point, after a two-year wild goose chase for phantom deep-sea wind technology has fizzled into nothing, we must be realistic and question whether these and other objections are sufficient to rule out other green energy strategies.
To date, the government has opposed land-based or near-shore farms on the basis that such installation produce minimum amounts of energy compared with the enormity of the land surface area they tend to cover. This is a valid argument, but it only makes sense if wind power was the only choice we had.
But it isn't. Most countries facing similar problems tend overwhelmingly to spread their energy policies out over a number of renewable sources – including some that are in abundant local supply, such as solar energy.
Wind farms – even in deep water, if the technology becomes available – could easily play a role in an urgently needed energy revolution. But why has Malta paid so little attention to the benefits of photovoltaic panels? Wave energy production? Or waste conversion (which to be fair we are already doing, albeit on a tiny scale and with only minimal results so far)?
Much can be also achieved simply by reducing consumption where possible. One of our major national energy costs is cooling in summer; another is seawater desalination through reverse osmosis. Both these expenses could be significantly reduced – and the power involved directed elsewhere – by maximising our retention of rainwater through an increase volume of wells and water cisterns.
This in turn creates the possibility of installing geothermal heat-pumps in domestic wells: a tried, tested and above all cheap alternative to air-conditioning.
But the clock is ticking fast. If we are to meet our targets and make the most of the few natural resources our country is blest with, we urgently need to change our way of thinking about energy.
---
Any comments?
If you wish your comments to be published in our Letters pages please click button below.
Please write a contact number and a postal address where you may be contacted.
---


All the interviews from Reporter on MaltaToday's YouTube channel.
---
EDITORIAL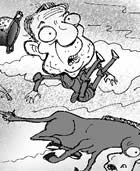 Tilting at wind farms
---
---