| | |
| --- | --- |
| Steve Borg | Sunday, 19 April 2009 | |
Tucked as it is in southwest England, the city of Bristol may not be so familiar with Maltese visitors to the United Kingdom. And yet, with a population similar to Malta's, it is a city that should inspire so many of us in what it is accomplishing in a bid to raise its status as an attractive city worth visiting.
On Easter Sunday, as I was attending the Risen Christ procession from the Cospicua church, I could not but gaze at the Dock No.1 in the Malta Drydocks, a reminder of the days when the docks generated so much income.
In 2000, we were informed that a decision to restore the dock's warehouses, to the tune of €7 million (Lm3m) would be taken following extensive consultations. A potential magnet for culture vultures, the docks stand abandoned to the empty rhetoric that this government so conveniently excels in. It remains dead as a dodo, condemned into oblivion by a decision to remain undecided. In the UK, this would have been listed in the Buildings At Risk register, just like Chatham Docks, that were given millions of euros in EU Interreg funding.
I recall the days, when as PRO of Fondazzjoni Wirt Artna – Malta Heritage Trust, I took particular interest in the ongoing restoration work on S.S. Great Britain, a rotting hulk brought in 1970 from the Falkland Islands to Bristol. The curator at the time was Matthew Tanner. Thanks to the sponsorship by the British Heritage Lottery Fund, and a zealous board of trustees, a long term restoration strategy was embarked upon and today the ship, berthed in the Great Western Dockyard is a prime industrial heritage site, patronised as an ideal site to hold quality social functions. It is currently being considered to be accepted as a World Heritage Site.
A place of notable mention is the Riverstation Restaurant, the former headquarters of the River Police on the docks near Bristol's city centre; the restaurant is a top dining place, with total commitment towards the environment. It minimises waste production and radiated heat, has a heat recovery system from cooking and refrigeration, and is a carbon neutral restaurant. The owners have planted two acres of woodland as part of their corporate responsibility.
The European Union has allocated €200 million for the 2008-2013 period, through the Eco-Innovation Project administered by the Executive Agency for Competitiveness & Innovation (EACI). SMEs, including restaurateurs and hoteliers can apply for funding in order to be more environment friendly and reduce their costings and carbon footprint. In the Call 2008, three Maltese enterprises submitted their proposals. It is an exciting project that aims at greening business which I wholly recommend and embrace as a potential MEP. I am aware that a meeting in relation to the forthcoming call shall be held in Malta in May.
The city's most noted theatre is the Bristol Old Vic. It is an esteemed venue, founded in 1766, one of Britain's oldest and most renowned. Recently reopened after a major refurbishment, last month it was staging Bristolian Catherine Johnston's play Suspension, a pro-life dark comedy based on the Fathers-4-Justice pressure group, who had in 2004 staged a protest at the Clifton Suspension Bridge, Bristol's prime suicide spot.
We should recall that Johnston, scriptwriter of Mamma Mia! which is currently Britain's highest grossing film, has also written about subjects that would probably be shunned locally. Would Malta cope with what she terms as her "ripe language", I wonder? Should we aim to stifle audacious and controversial artistic expressions that challenge our minds? Or should we promote theatrical productions that provoke our grey matter into thinking?
In the run up to the European Parliamentary elections, the Nationalist government will be embarking on its usual tirade of last-minute ceremonial launches, with a multitude of many plans, proposals and initiatives. I can already picture all those official ceremonies, replete with the clinking of glass and not much more. Many proposals shall remain shelved in the post-June period, until they are downsized into obscurity, ultimately forgotten. They may then be resuscitated and re-proposed come next general election.
The electorate must judge this government on how Malta performed as an EU member in this European legislature. Malta needs a new political order that is ready to bring positive change in an erstwhile stale status quo. It is found within the new spirit of the Labour party. I aim to be part of this proactive team that brings such change.
Steve Borg is a PL candidate for the MEP elections
---
Any comments?
If you wish your comments to be published in our Letters pages please click button below.
Please write a contact number and a postal address where you may be contacted.
---


All the interviews from Reporter on MaltaToday's YouTube channel.
---
EDITORIAL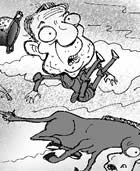 Tilting at wind farms
---
---