| | |
| --- | --- |
| News | Sunday, 19 April 2009 | |
Raphael Vassallo
It looks like a straightforward altercation between the governments of Malta and Italy over legal responsibility for the 154 irregular migrants intercepted by Turkish cargo vessel MV Pinar some 40 nautical miles from Lampedusa on Thursday.
But simmering beneath the surface is a thorny issue involving interpretation of countries' international obligations according to the Search and Rescue Convention, signalling a new and potentially dangerous shift in immigration policy by our traditionally friendly neighbour to the North.
The Pinar is currently anchored 25 nautical miles outside Lampedusa within Italian territorial waters, but no breakthrough had been reached by yesterday evening. As the two countries ensconce themselves in their respective positions, the situation on board the cargo ship is understood to be dire. A pregnant woman is reported to have died yesterday, while an emergency medical evacuation had to be carried out yesterday afternoon, airlifting a 15-year-old girl to Lampedusa.
The ship's owner told an Italian agency that as many as 40 persons are currently in need of urgent medical assistance. Many of the passengers are women and children.
But the stakes are high for Malta, as acceptance of the migrants would de facto translate into recognition of Italy's revised interpretation of the SAR convention, with potentially catastrophic implications for Malta.
According to the SAR and SOLAS conventions, Malta is responsible for the "co-ordination of search and rescue operations" over a territory stretching from Crete all the way to Tunisian territorial waters. This includes the entire island of Lampedusa.
With the 2004 amendments, national obligations for rescue at sea are to deliver the rescued persons to the "nearest place of safety". In the case of the MV Pinar standoff, the migrants were rescued 41 nautical miles from Lampedusa, and 114 nautical miles from Malta.
Italy however insists that Malta must assume full responsibility for all persons rescued in Malta's SAR zone, regardless of where the rescue actually took place; and has already tried (unsuccessfully) to apply this debatable interpretation also to Frontex missions.
On its part, the Malta government has already made it clear that his government cannot accept Italy's interpretation of international SAR obligations.
In an angry exchange yesterday, Italian Home Affairs Minister Roberto Maroni cancelled a Malta visit after accusing the local government of failing to abide by international law. Justice Minister Carm Mifsud Bonnici responded by defending Malta's record in rescuing migrants in distress, and accused Italy of deliberately confusing the issue of SAR obligations.
It is a highly sensitive issue for both governments, with European elections coming up in June. Malta's immigration policy has come in for heavy domestic criticism for its perceived moderation in dealing with other European member states. Maroni, on the other hand, hails from the rightwing party Lega Nord, known for its hard-line position on immigration.
---
Any comments?
If you wish your comments to be published in our Letters pages please click button below.
Please write a contact number and a postal address where you may be contacted.
---


All the interviews from Reporter on MaltaToday's YouTube channel.
---
EDITORIAL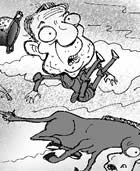 Tilting at wind farms
---
---