| | |
| --- | --- |
| Mona's Meals | Sunday, 19 April 2009 | |
One of my Facebook 'friends', a person who I have never met in real life, but who I feel adherence to simply through her quick wit, sense of humour and standard of English (rare on FB and most local media) posted an article about the death of the metrosexual and the rise of the beefcake. On a dull afternoon at work, it cheered up the girls no end. Especially since it had a surfeit of close-ups.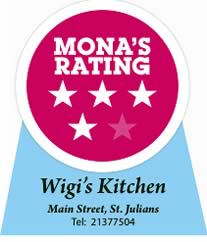 The beefcake look is rather like a twice-baked soufflé: it came around the first time during the fifties in the shape and form of the delectable, womanising, I'll-tear-all-my-clothes-off-if-you-as-much-as-say-hello-to-me Don Draper character in Mad Men. We didn't really appreciate it then, especially, in my case, as I was not yet born. Years later, we are giving it another blast in the oven and here he is, in the shape of David Gandy. Remember him? The one that sort of lowered himself onto the (female) model in a boat in the Dolce & Gabbana perfume adverts? How could you forget?
It may be bliss on the eye-candy front for the ladies and the laydees, but for the men I'm afraid the situation is slightly crazy. We still have the likes of Victoria Silvstedt with her simpering whimpers and her can't-control-where-they-go boobs. The Writer insists on 'watching' her as she traipses up and down touching letters on Italia 1's Ruota della Fortuna. I love the way the Italian TV stations take political incorrectness, in this case a woman behaving like a human Barbie, and turn it on its head.
Then there is Christina Hendricks, aka Joan Holloway, also from Mad Men (download it if you've never seen it: it's sartorial and aesthetic bliss) who, with her absolute curves and tiny waist nudges the size 18 without a blink. I wouldn't want to see her in a tracksuit washing the car on a Saturday morning but in that 50's underwear and those superbly fitting dresses she looks like a human sex toy. Men see her and actually want to die there and then, finding no other reason to carry on living.
If we continue to push (Gandy's) boat out, there's Beth Ditto. Beth is a lesbian. Nobody can say I don't cater for all sexual preferences. She is on the cover of Love magazine, devoid of all body hair or clothing. Whereas until a few years ago, we'd think this was ironic, her size and flab is now considered lacking anything tongue-in-cheek. She and The Gossip, her band, were Karl Lagerfeld's performers of honour at the Chanel show a month ago. Ditto is infamous for her style, which is as far from shy or matronly as you can imagine. But this didn't stop her from stage-diving during the show. Beth Ditto stage-diving makes as much sense as one of our festa statues coming to life and bashing its drunk followers on the head. I can just imagine the horror on the faces of those size 4 fashionistas in the crowd.
According to Tanya Gold in the Daily Fail, a newspaper I avoid because once I open its website I cannot stop reading the gossip columns, this is because we are living in times of need. I have to agree. When companies, bank accounts and property are falling in value like a series of pushed-over dominoes (and metrosexuals), we don't want a man decorating teacakes around the house; we want someone who can push a wheelbarrow piled with soil, strip the walls (and us) in half an hour and hit the contractor about the face should it become necessary, which it always is. We don't want to make love; this is a time for explosive sex, for being practical, for not having time to dawdle.
And men of course, feel the same. Can you imagine them dating Kate Moss? They never liked her body to begin with; the girls did, and not in a lesbo-crush way either. Every time men would make a grab at her, they would realise they're holding a frock and Moss had slipped out to a party. Moss couldn't bake a cake if her daughter's social life depended on it. She thinks that Top Shop is a supermarket; that milk comes ready in a Starbucks latte container; that all books are shaped like Vogue and likewise, contain pictures.
All this is quite fabulous. We girls can go back to being women and the men can be men, which includes being able to fix a chair and put up a shelf. If you have spent the past ten years surviving on lettuce leaves, then now is the time to start eating.
You might like to kick it all off at Wigi's, where I had the most terrific plate of pasta ever last week. Pasta will put a tummy on you practically instantly and this one does it while providing you with some culinary joy. The flat strands had a superb texture, a slick of sauce from the sea urchins, oozed ozone and enjoyed being kicked in the guts by what seemed to be chilli oil. A terrifyingly good and well-instructed combination all 'round.
The Writer had the calamari fried in batter. In my eyes, he is already quite a beefcake but he has absolutely no intention of being a beefcake-with-bulge-where-it-should-not-be. Let's admit it: when men put on weight it usually includes looking pregnant and getting a set of moobs. It certainly does not go to their shoulders. The calamari came with a sweet chilli sauce which is like the truffle oil of the nineties: ubiquitous and eventually boring. He loved the whole thing. I found it slightly chewy. "Is the calamari frozen?" I asked. "I don't know and frankly my dear…" he replied. OMG. Rhett Butler, sitting across the table from me. I went back a few days later with The Cowboy and the calamari came without batter and were most definitely fresh. Superb.
He moved on to the veal t-bone. "Fantastic," he said. This situation with t-bone is also a brilliant reaction to modern times. The recession has meant the rediscovery of butch cuts which were previously treated with disdain: t-bone and rib-eye being prime examples. Only someone who does not appreciate good meat orders a fillet these days. That's 90 per cent of the population.
I had the grilled tuna, which was well cooked, but badly chosen and slightly chewy. The best part of the tuna - the belly, or, in Japanese, 'toro' - is still being exported to Korea and Japan for sashimi. Restaurants should start asking for it: it's the fattiest part of the fish and therefore self-bastes while cooking.
Mains came with sliced, deep fried potatoes on the side - deliciously addictive and such a lifetime on the hips. The side salad was superb: fresh leaves, pine nuts, bits of peeled orange segments and a proper, punchy dressing to lift it all up. The wine list is small but generous in pricing and comes with a 'sommelier's selection' from which we extracted a relatively cheap Chilean cabernet-shiraz.
Service throughout is in the shape of Beppe, who is friendly and courteous to those who know him, and warm and polite to those who do not (like us), and his dad who is slightly less generous with words, although I have it on good information that once you get to know the guy, he's as soft as butter. For a Saturday lunch, when you would expect most restaurants to be empty, this one was an absolute sell-out and has quite a few fans: it was packed when we went.
I had the date and toffee pudding to pad my nether region in grand fashion. It must have been lovely when it was taken out of the oven but I am not too enamoured to these kinds of desserts being reheated later in a microwave. Microwaves give food a shocking heat that a practiced tongue can tell a mile off. TW ate his apple crumble but I did not like the floury topping - if not reheated in an oven, the crumble leaves a grating line on the roof of the mouth.
A home-made tangerine liqueur was on the house. Considering how much sugar goes into these things, I had it. It was fantastic: sharp and fruity and absolutely alcoholic. By the time we walked out of the restaurant I had turned into Christina Hendrick. Or maybe I had not.
---
Any comments?
If you wish your comments to be published in our Letters pages please click button below.
Please write a contact number and a postal address where you may be contacted.
---


All the interviews from Reporter on MaltaToday's YouTube channel.
---
EDITORIAL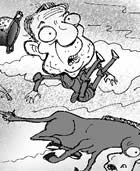 Tilting at wind farms
---
---