| | |
| --- | --- |
| Saviour Balzan | Wednesday, 08 April 2009 | |
Looking out of the office window is not exactly a very uplifting experience and neither a tranquil scene from Umbria or Brittany. Instead I have to make do with the ugliness of the San Gwann townscape, probably one of Malta's ugliest corners. At least I can see some blue sea in the background.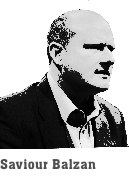 So breaking the same morning's monotony, I was thrilled to receive an SMS... an SMS from guess who? Of all people, Alan Deidun.
He is not on my contact list so if he had not signed his name I would have been excused if I thought the SMS was an Alternattiva Demokratika promo.
It was not. Deidun, who is standing with the PN list for the gravy train to Brussels is a recent convert to the Nationalist creed. His SMS read as follows:
"Am organising a press conference tomorrow Wednesday at 10am on Wied il-Ghasel in Mosta, where I will ask for permit revoking, besides calling for the implementation of recommendations of galdes commission and for ODZ (outside development zones) moratorium. Hope you can make it. Thks, alan deidun."
Needless to say I will not be at Wied il-Ghasel at 10am. However I will be dipping my honey cakes in some sweetened tea and reading my emails. I will not be reading The Times, I never do, neither do I read The Independent. If I want the news I do not read papers controlled by spin. I dig for my own news. And more importantly, I refuse to read the opinions of gravediggers and government sycophants.
At 10am I traditionally dig into those honey cakes and stuff them in my mouth just before they fall apart into the tea. I guess I will not be listening to Deidun and his green sermons at 10am.
I am sad for Deidun. He stands for a euro-parliamentary seat but takes a stand over issues which are purely determined by the decisions of local politicians. Brussels has no jurisdiction over this kind of business.
And guess what? Those local politicians are in fact Nationalists, the same ones Deidun has chosen to join and the ones who have: promoted, legalised and allowed the destruction of Wied il-Ghasel; repudiated the Galdes Commission on the financing of political parties; and the ones who introduced the ODZ schemes.
Alan Deidun will not be elected on the European ticket and if he were, he would not have any influence on the decisions, good or bad, related to party political financing, whether Wied il-Ghasel is destroyed or not, and finally whether Pullicino's grandiose ODZ schemes will be scrapped, stopped or trimmed.
He should talk to soft-spoken Simon Busuttil on how difficult it is to change things from Brussels and why Brussels has little power over certain local decisions.
Deidun is in fact in the wrong party, or else he has not quite understood what the Nationalist party stands for today. It stands for a hotchpotch of politics, from the ideological gymnastics of Vince Farrugia, former Labourite and presently GRTU boss; to the sweet and serene politics of Simon Busuttil and the rather confused and hypocritical politics of David Casa.
In 1992, when Deidun was 13 years old and the country was governed by the same Nationalists, the PN did the same. Austin Gatt, at the time secretary-general of the PN, asked Darryl Grima, a sort of green activist, to stand as an election candidate. It was of course a ploy to take away green votes away from the greens. It failed miserably and Darryl Grima faded into oblivion and simply melted into the background.
Deidun is either blind or else blinded by the fact that the Nationalists do not really care a hoot about the environment. All the decisions they have taken about the environment have been determined by demands put to them by Brussels.
Were it not for Europe, the PN under Gonzi, or anyone else, would still be wondering whether to close down Maghtab, improve the quality of the air, stop hunting, protect our tuna stocks and countless other things. If Pullicino for example did not have European directives to direct him, he would be in a far bigger mess. The fact that he has some guidelines does make a little difference. But as we all know, you can take a horse to water but you cannot make it drink.
The fact that European directives tell us nothing about whether Polidano or Vassallo can rip through agricultural land and build supermarkets or flats means this government will do f*** all to stop the rape of our countryside.
Deidun will argue differently. He will say that he will do his very best to influence the people in the party to become greenies and to embrace the environment. I could give some names of interesting members in the PN who I'd love to see embrace the environment.
Deidun of course means well, and oh yes, he will be tapped on the shoulder and given all the importance that is expected from someone who until a few years ago would be considered a moron and a nerd.
But as Deidun returns home after a day of campaigning he should really come to terms with the fact that politics is about two basic principles. The first is to give the impression that the 'party' is the saviour of the people, and the second is to promulgate politics that ensure that every election the 'party' will be returned to power.
Politics, unknown to Deidun, is about keeping people in power. And that is why proposals such as those of the late Galdes Commission on the financing of political parties will never be accepted by politicians such as Gonzi. If Deidun thinks that Gonzi is serious about declaring who gives money to the Nationalists he should also believe that I will be dressing up as a Roman centurion for the Good Friday procession. The very same proposals of the late Central Bank governor Galdes, if implemented, will lift the lid over the financing of thousands of euros to the Nationalist party by the construction industry, that very industry that decimated the Maltese countryside. That very countryside that injected passion in Deidun's love for the Maltese landscape.
And that is why Lawrence Gonzi & Co. do not want the Galdes Commission's report to be realised.
Come on Alan, do what everyone in his right senses should be doing. Abdicate from politics and on election day join me on my trip to Sicily... where I promise a plate of fresh pasta and vongole and drink for all those who have a mind of their own.

PRINT THIS ARTICLE
---
Any comments?
If you wish your comments to be published in our Letters pages please click button below.
Please write a contact number and a postal address where you may be contacted.