| | |
| --- | --- |
| Editorial | Wednesday, 08 April 2009 | |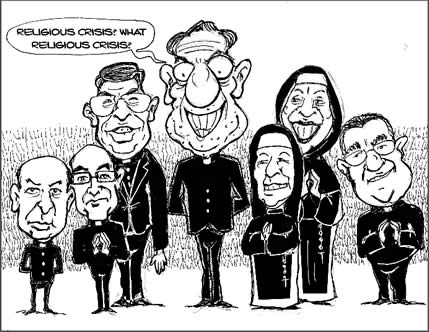 As the nation pauses to observe Holy Week, it may be worth revisiting some of the commonly held beliefs regarding our country's deep-seated historical links with religion.
It has often been observed that Malta is a "Catholic country", and there is certainly a lot of truth to this observation. Not only is the overwhelming majority born into a Catholic culture; but our history militates strongly in favour of an all-but unchallenged Christian identity dating back at least 1,000 years (some would argue 2,000).
Unsurprising, therefore, the instruments of our eventual rise to nationhood – in particular, the Independence Constitution of 1964 – allocates special rights and privileges to the Catholic Church.
These include a formal acknowledgement of Roman Catholicism as State religion, and "the right and duty to teach which principles are right and which are wrong".
The same Constitution also guarantees basic freedom of religion, but under scrutiny several of our laws appear slanted and skewed in favour of the majority faith. For instance: blasphemy is a crime according to the Criminal Code, and "offending religious sentiment" can land the offender with a prison sentence of up to six months (before one objects that these are archaic laws which are seldom or never enforced, it is worth remembering that a six-month sentence, suspended for 18 months, was actually meted out just last month over a Carnival costume.)
The penalty is considerably less for offending the religious sentiments of those who profess belief in religions other than Catholicism. These pariah faiths – condescendingly referred to as "cults" in the wording of the law – are evidently accorded lesser status by the Criminal Code... despite the fact that the Charter of Human Rights, also entrenched in the Constitution, expressly forbids discrimination on religious grounds.
Elsewhere, there have been numerous concessions to the Church over the years, which have been justified on the grounds of our cultural identity. For instance, the reforms effected by former Prime Minister Eddie Fenech Adami in 1991 and 1993, whereby the Holy See was accorded favourable arrangements in the spheres of education of jurisdiction over Maltese marriages.
Rarely, however, are these and other aspects of our country's institutional baggage viewed in their proper historical context. For instance, Article 2 of the Constitution has often been cited in defence of, among other things, State censorship and our national resistance to divorce. But these arguments begin to look a little weak, when one also remembers that the same Article was also the fruit of apparent pressure upon the Nationalist government of Malta, at a time when it was still a mortal sin to vote Labour.
From this vantage point, it is difficult to tell if Article 2 was in fact the fruit of a genuine concern with Catholicism, and its relevance to the nation's cultural values; or whether its inclusion was intended merely to condition the future development of the country in such a way as to limit the onset of non-Catholic influences.
Judging by more recent attempts to amend the Constitution – such as the persistent efforts by the Gift of Life Foundation, with the declared of making it harder for future generations to introduce abortion – our Constitution is all too often perceived as atool with which to shape the country according to one's own private beliefs.
In is in this context also that more recent developments must also be viewed. For instance, on the occasion of last year's Victory Day, Archbishop Paul Cremona delivered a homily about the "threat of secularism", equating "divorce" with "abortion and euthanasia"... a mere three months after both Prime Minister Lawrence Gonzi and Social Policy Minister John Dalli had separately commented on the need to discuss divorce legislation last June.
Is this interference in matters of State? Possibly... but if so, there is nothing essentially wrong with the Bishops expressing their personal opinions on how the State should be run.
The real trouble begins, not with the Church's right to express an opinion, but rather with the State's consistent habit of attaching more weight to the Church's opinions, than to virtually any other point of view. Already we have witnessed active religious discrimination, whereby the rest of the world's religions are treated as inferior to Catholicism by the Criminal Code. More worrying, however, was the Prime Minister's decision – expressed in answer to a parliamentary question, just one month after Cremona's sermon – to renege on his former commitment to kick-start a divorce debate.
The implications are that, for all outward indications to the contrary, the dynamics of the notorious 1960s "interdett" episode still simmer quietly below the surface of the country's political discourse.
Considering the extent of the social changes since then – analysed elsewhere in this newspaper, through a variety of recent surveys – and it is difficult to escape the notion that it is now the government of Malta, and not necessarily our Ecclesiastical authorities, that needs to move with the times.

PRINT THIS ARTICLE
---
Any comments?
If you wish your comments to be published in our Letters pages please click button below.
Please write a contact number and a postal address where you may be contacted.