| | |
| --- | --- |
| Editorial | Wednesday, 01 April 2009 | |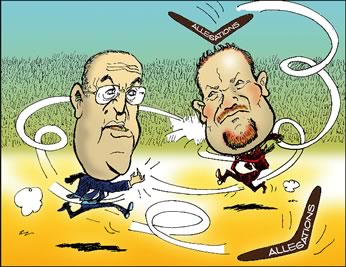 On Monday evening, Opposition leader Joseph Muscat addressed a crowd composed predominantly, if not exclusively, of Labourites, and called for a National day.
He did not single out any one of the five national days as his personal choice. Instead he limited his appeal for national unity, lauding his former running mate for Leader of the party, George Abela, and pouring lavish praise on Labour's father figure Dom Mintoff – a character more often than not depicted as some romantic hero from yesteryear, instead of the autocrat he really was.
Muscat was nonetheless statesman-like, and more importantly he steered away from controversy and appeared reconciliatory. He tried very hard to strike a chord not only with the Labourites who attended the event in Vittoriosa, but also with the rest of the Maltese: including those who traditionally shun this not-so national celebration.
All well and good. But one would at the least expect the Labour leader to back these fine words with appropriate gestures of reconciliation and rapprochement. Instead, Joseph Muscat's actions and words earlier this week pointed in a totally opposite direction.
For instance, his plea for unity on the eve of Freedom Day contrasted sharply with the report he lodged with the Commissioner of Police last Saturday: a report based on what was allegedly said in the confines of the Nationalist Parliamentary group – where Dolores Cristina and Tonio Fenech were alleged to have made statements that raise concerns over the finer details of the EU-funded St John's Co-Cathedral project.
It is not at all clear why Muscat would have mentioned the ministers by name to the Police Commissioner, but not to the people of Malta and Gozo. (In fact it fell to MaltaToday last Sunday to make these names public.)
Nor is it apparent why the report was lodged with the police at all. Of the two alleged comments, only one – that alleging "undue pressure" on public officials to have the project approved – is in any way worthy of a criminal investigation. The other – that EU funds had been secured by "someone who knows how to play the game" – sounds more like a factual description of the widely-known involvement in the project of Richard Cachia Caruana. The fact that his person is also Malta's permanent representative to the RU may raise issues of a possible abuse of his position; but this is surely a matter for the government of the day, and not for the police.
Elsewhere, the very vagueness of Muscat's allegations raises more question than it answers. We don't know, for instance, which minister was associated with which alleged comment; and more pertinently, whether the statements themselves were factually correct or merely unfounded allegations.
But what was allegedly said in the parliamentary group ultimately speaks volumes about the levels of internal dissent within the PN: and while this is clearly not a matter for the police to investigate, on the other hand if these statement were truly uttered by the ministers concerned, the Prime Minister cannot ignore them.
It is evident therefore that Muscat's initiative was taken less out of concern with the legality or otherwise of the ministers' behaviour, than with the desire to embarrass the government and expose the extent of its inner strife.
But there was another clear motive: for Muscat's foray to the Floriana HQ came only hours after Frank Portelli, the outspoken Nationalist candidate for the European Parliament, stated on his Facebook profile that two Labour MP's were being investigated in the PL parliamentary group over potential criminal activity.
Portelli did not say what the criminal activity was all about. Again, the allegation was unsubstantiated and no names were mentioned, though two names were bandied about in media circles with no evidence to back them. It seems that Portelli's intention was to keep everyone guessing, perhaps with a view to also tarring all Labour MPs with the same brush of uncertainty.
As the European Parliamentary elections next June draw near, we can only expect more such unproven insinuations to be bandied about by politicians of all shape and size: while both Joseph Muscat and Lawrence Gonzi continue blaming each other for Malta's failure to ever achieve national reconciliation, while at the same time fanning the flames of internecine hatred themselves.
It is therefore a pity that Joseph Muscat would undermine his otherwise laudable public position on the need for a single, unifying national day. But at the same time it illustrates with perfect precision the root cause of our national malaise in the first place.
Until Malta political class is willing to outgrow its petty obsession with smear-tactics and schoolyard politics, it seems we will never reach the maturity required to put aside our differences and come together as a nation... no, not even for one, single solitary day each year.

PRINT THIS ARTICLE
---
Any comments?
If you wish your comments to be published in our Letters pages please click button below.
Please write a contact number and a postal address where you may be contacted.