Four out of every five respondents in MaltaToday's latest survey have expressed a positive judgement on Lawrence Gonzi's new choice of ministers – a reshuffle of Cabinet posts that has excluded former ministers and introduced new and younger members of the house.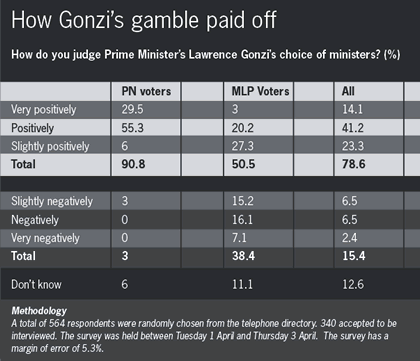 Even Labour voters have in their majority welcomed the Prime Minister's choice of Cabinet.
While 50.5% of respondents who voted Labour on 8 March expressed a positive judgement on Lawrence Gonzi's choice of ministers, 38% consider the new Cabinet a negative development.
Overall, a staggering 79% of total respondents judged Gonzi's choice of ministers positively.
Significantly, 55.3% of respondents judged the Prime Minister's choice as either "positive" or "very positive" – the other choice being "slightly positive".
Only 9% of respondents judged the Prime Minister's choice as "negative" or "very negative". A further 7% think his choice was "slightly negative".
The results, however, are a clear indication that Gonzi's post-electoral reshuffle has been warmly received by the electorate.
Despite having always refused to reshuffle his ministers before the election, Gonzi showed no hesitation in ditching some of his veteran heavyweights in his new Cabinet after winning an election by just 1,500 votes, and having promised new blood if voters so wished.
Indeed, voters responded by voting in new faces, rewarding backbench MPs with a greater share of the vote, and effectively costing old ministers their job by not voting for them. Gone from Gonzi's Cabinet are a number of old faces like Francis Zammit Dimech and Louis Deguara, as well as Ninu zammit and the relatively new Jesmond Mugliett, who were not appointed ministers despite their re-election to parliament.
Party veteran Louis Galea, former minister for education, Censu Galea and former foreign minister Michael Frendo were not even eligible for appointment after they failed to get elected to the new parliament.
Two newcomers to the ministerial team are Carmelo Mifsud Bonnici and Tonio Fenech, after serving under the justice and home affairs minister and finance minister as parliamentary secretaries respectively. Former finance and foreign minister John Dalli earned himself a comeback after four years since his resignation.
Dolores Cristina, Tonio Borg, George Pullicino, Austin Gatt and Giovanna Debono were all reappointed ministers. Gonzi has also managed to trim his cabinet from 13 to eight ministers.
Not surprisingly, Labour voters were more lukewarm than Nationalist voters in their assessment of the new Cabinet. While 38% of Labourites judged the new Cabinet negatively, only 3% of Nationalist were of the same opinion – very indicative of the trust Gonzi enjoys in his own party especially, after defying all odds and winning a third consecutive term for his party. And he even managed to ditch some of the party's heavyweights without eliciting any protest within the party.
But in choosing the new Cabinet, Gonzi also blocked the ascent of successful candidates like Robert Arrigo, elected from two districts, denying the former Sliema mayor a tourism portfolio that some thought was his "by rights", given his tourism business interests. Jeffrey Pullicino Orlando, currently under investigation for his involvement in the Mistra discotheque application, was also sidelined, his electoral antics in defending the indefensible proving embarrassing and a big vote-loser for the party. Often touted as the next environment minister, the Mistra scandal was Pullicino Orlando's undoing.
jdebono@mediatoday.com.mt