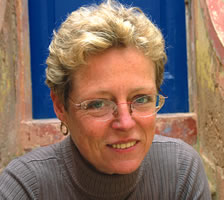 On March 16, the artist Ebba von Fersen Balzan, passed away aged 50 at Mater Dei Hospital comforted by the rites of the Lutheran Church.
Ebba was actively involved in the social dialogue of the Maltese islands as the representative of the Friedrich-Ebert-Stiftung in Malta. She was up until very recently active in the think-tank between the FES and the Centre of Labour Studies at the University of Malta.
But she also carved her niche in Maltese art with her works on prehistoric temples. "My involvement with the prehistoric temples in Malta certainly has to do with spiritual curiosity, and the human need for spirituality. Spirituality always carries the mysterious, the questions we cannot answer. These are transcribed in paintings. It also is what eventually attracts the viewer: The mystery or secret in a work of art."
She came to Malta, she declared, out of curiosity and armed with a collapsible easel "that honoured its name every time I tried to use it."
"I did quite a bit of drawing and sketching, enchanted by the colours and the quality of light. At that time I had just decided I needed to take my painting further, and really work at it. Talent is nice. Inspiration is wonderful. Together they do not add up to more than 10 per cent, which leaves 90 per cent to work on."
Ebba von Fersen Balzan moved from Germany to Malta and found romance and eventually married in Malta. Apart from her several solo and collective exhibitions where much of her original inspiration came from Malta's Neolithic temples, Ebba also painted Malta's Jazz festival 'live'. Her 'Sacred Sights' was an exhibition of paintings of Malta's megalithic Temples with Jeni Caruana and Ebba von Fersen Balzan, which aimed at raising awareness and show the beauty of Malta's unique heritage.
Various condolences also poured in on the Maltese blogosphere from people who know Ebba and her husband Saviour Balzan, MaltaToday editor.
She leaves to mourn her loss her husband Saviour, her mother and father-in-law Antoinette and Reynold Balzan, her sister-in-law Mariella and her husband Alan Dimech and nephew and niece Matthew and Francesca, her sisters Monika and her husband Bernard von Plate, Ulrike and her husband Eberhardt Schöle, Ulla and her husband Eckhardt von Kirchbach, her brother Georg Wilhelm Freiherr v Freydag and wife Alexandra, Katrin Bartling and Bruno Dohle, Barbara, Maryvonne and Jöel Beloeil and relatives, friends and family.
The funeral leaves Mater Dei today at 1.30pm for St Paul's Anglican Cathedral, Valletta where Mass praesente cadavere will be said at 2pm, followed by interment at the Santa Maria Addolorata Cemetery. No flowers by request, but donations to Din l-Art Helwa, 133 Melita Str, Valletta will be appreciated.