He was catapulted into parliament from two districts, beating five ministers in the first count. He is a self-made successful entrepreneur who enjoys the backing of the tourism industry. But to the surprise of many, Nationalist MP Robert Arrigo was not offered a Cabinet post. He shares his reactions with Raphael Vassallo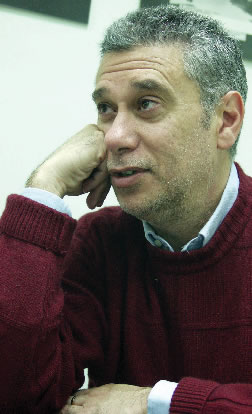 Robert Arrigo has many reasons to rejoice. This was his second ever national election, and not only did he pole-vault into Parliament from two districts – one of which he contested for the first time – but he beat five ministers in the process, to emerge uncontested winner on the highly competitive 10th district. On the 9th, where he was an outsider, he placed second only to Dr Gonzi himself.
That's an extraordinary personal achievement by any standard, but meeting him in his office overlooking the picturesque Balluta Bay, there is a palpable atmosphere of gloom.
"This week I have received calls from all over Malta," he says as he finally manages to tear himself away from his laptop. "Marsacala, Zejtun, Zurrieq, Gozo… but rather than congratulate me on my election to parliament, they were all calls of sympathy."
Arrigo certainly enjoys a lot of sympathy at the moment: not least, from all the major players in the tourism industry, many of whom openly backed him for Tourism Minister. But just as the expectations were high, so too is the disappointment… even though Arrigo retains a philosophical air of resignation throughout.
"One might have expected a call, all things considered," he muses. "But obviously one also has to also respect the Prime Minister's prerogative…"
In a sense, it could be argued that expectations had been raised by the election campaign itself. Under pressure from Labour's battlecry of corruption and incompetence, the Nationalist Party was forced to campaign solely on the strength of its leader's popularity. In a bid to distance himself from his Cabinet colleagues, Gonzi symbolically made a "deal" with the electorate on the TV quiz show "Deal or no deal": if elected, he would revamp his Cabinet with new faces and young blood.
The Prime Minister has since delivered on that promise, but only in part. His revamped Cabinet features many changes to the portfolios of different ministers, but only two of the faces are entirely new. Of these, the one in tourism happens to belong to Dr Mario Demarco: a lawyer and firmly established Nationalist dynasty member.
Meanwhile, a rumour doing the rounds has Robert Arrigo being offered a parliamentary secretariat, only to haughtily refuse, insisting that nothing short of a full-blown ministry would be acceptable.
Arrigo himself peremptorily dismisses all this talk as sheer speculation. "I couldn't refuse anything, because there was nothing to refuse," he says with characteristic simplicity. "I wasn't offered anything. I didn't ask for anything, either."
I ask Arrigo if there was any talk of a Cabinet post before the election, and he shakes his head. "No. Lawrence Gonzi was never specific, either publicly or in private. One couldn't have assumed anything at that stage… not before the electorate spoke, at any rate."
But now that the electorate has indeed spoken – shouted, one might almost say – what does he make of its verdict? Robert Arrigo gives me a wry smile.
"For me, it's a very clear message," he says. "Doing well in elections is a prize people give you for working hard. People here know how to vote, you know. Even globally, as they showed his election. People stuck with the Nationalist party, because they know it can deliver…"
Arrigo leaves me to fill in the blanks: people voted for him because they knew he, too, can deliver. Is this a critical comment on the Cabinet? He shakes his head. "No. I wish them all well in their work, and for the sake of Malta I hope they will all be successful."
Coming back to his credentials, Arrigo draws some solace from his personal record.
"When you look at my history, you will see it has been very successful." He says it matter-of-factly, without any trace of boastfulness. "Not just in my private professional career, but also at the level of local politics…"
This much can be verified by even a fleeting glance at his nine-year career as Sliema mayor. He still holds the record (percentage-wise, at least) for the most successful local council election result ever, gaining more than 3,500 first-count votes. Today, his wife Marina appears to have picked up where he left off.
But his very success in the tourism sector may arguably have militated against him, raising numerous pre-emptive objections of the "conflict of interest" variety.
Echoing a line of reasoning prevalent in the business community, Arrigo vehemently denies all charges. "The issue of conflict of interest only enters the equation when you use your interests unjustly," he insists, adding that it is not only entrepreneurs who have interests which can conflict with their public role. "Lawyers, architects, doctors… none of these can work without clients. Couldn't that also be a conflict of interest? But if used properly, there is no conflict. It simply doesn't exist, if the person concerned is serious."
Seriousness appears to be one Arrigo trait that no one really doubts.
"If you look around my office, you will not see any doctorate in any field on my walls. I am just a Mr Somebody, but I'm a professional in my line of work," he says. Then he invites me to consider the professional composition of parliament, arguing that the business sector, which generates jobs and contributes so much to the country, is vastly under-represented.
"As far as I know I am the only member of parliament on either side of the house who employs people," he says, illustrating his unique ability to speak volumes in just a handful of words. Politics, he goes on, is just like business in some respects. "You are chosen, given responsibilities, then you are expected to deliver. Generally, people are chosen for the areas in which they have expertise. An architect for the roads, a lawyer for the law-courts, etc…"
Does this add up to a definite statement of intent? Arrigo simply shrugs. "I think my experience in sports and on the local council could have been put to a better use, that's all…"