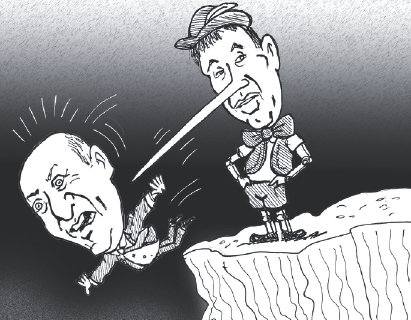 In an interview with PBS journalist Reno Bugeja last Tuesday, newly re-elected Dr Lawrence Gonzi was visibly uncomfortable when asked whether he would offer a Cabinet post to Jeffrey Pullicino Orlando: the backbencher from Siggiewi who had been embroiled in a pre-election scandal regarding an application for development in the environmentally sensitive Mistra valley.
To his credit, Dr Gonzi did not beat about the bush, insisting in clear terms that there would be no place for Jeffrey Pullicino Orlando in the new Cabinet. To justify his decision, Dr Gonzi cited the fact that he himself had commissioned two separate inquiries into the case: one of Mepa auditor Joe Falzon, who was asked to investigate the issue of an outline development permit to build an open-air disco (by the unfortunate name of "Spin Valley") on ODZ land; the other, a police investigation into Jeffrey Pullicino Orlando's own involvement, after Opposition leader Alfred Sant described the project as a case of "corruption".
Bugeja then asked the Prime Minister whether he would reconsider his position if the investigations found no hard evidence of any wrongdoing on Pullicino Orlando's part. Here, Dr Gonzi was less direct in his answer, pointing out only that there were "other considerations" apart from the above-mentioned inquiries. He would not be drawn into expanding on these "other considerations", other than to insist that Jeffrey Pullicino Orlando would not become a minister in the foreseeable future.
Dr Gonzi's reluctance to go into detail is understandable, but anyone who followed the events of the past two weeks would immediately understand why he stopped short of defending his disgraced backbencher. Unpleasant as this may sound, the facts are incontrovertible: Pullicino Orlando lied about his involvement in the Spin Valley development proposal… to the Prime Minister, to the Nationalist Party, and above all to the electorate.
The MEPA auditor's report issued yesterday confirms the gross irregularity in the issue of the permit itself, and it is with justification that he states that MEPA will be exposed to accusations of corruption when permits of this nature are issued with such blatant disregard to policy. "Accusations of corruption are inevitable and difficult to refute," the MEPA auditor said of this permit.
When Dr Sant made public an entire dossier of Mepa files and documents relating to an outline development permit for the Mistra disco, the Nationalist MP vehemently insisted that the application was made by "third parties" – i.e., the person who had leased the land, whom he claimed never to have met – without his knowledge or consent. His most forceful statement was made at the "taht it-tinda" meeting in Mosta the following day, where Pullicino Orlando burst into tears while declaring that he knew nothing about the permit in question… only to seconds later reveal that he had already contacted the applicant he had never met, to ask him to withdraw an application he supposedly knew nothing about.
Even at this early stage, the evidence was compelling enough for the Prime Minister to request two separate inquiries into the issue. But then, four days after Jeffrey's tearful public denial, Alfred Sant dropped the final bombshell: a copy of a lease agreement contract, dated January 2008 and signed by Dr Pullicino Orlando in person, which specified that the same stretch of land was to be developed exclusively as an open-air disco, complete with car park and all the relevant amenities.
It was the "smoking gun" in what Sant himself defined as "Spin Valley – the Western", proving conclusively that Jeffrey Pullicino knew only too well about the impending development… having authorised it himself. But fortunately for Pullicino Orlando's electoral chances, Dr Sant produced this damning evidence too late in the day, during the final scheduled public debate before the so-called "day of reflection". For this reason, the fact could not be reported in the media on Friday. This might explain why the Zebbug candidate was effortlessly elected in two separate districts, even though his antics are estimated to have cost the Nationalist Party thousands of votes.
With all the cards now on the table, it is clear that Pullicino Orlando's position in parliament is no longer tenable.
By denying him a ministry, the Prime Minister has publicly signalled that Pullicino Orlando has lost his trust. But this also places Dr Gonzi in an awkward position: for the Prime Minister lacks the authority to strip an elected representative of his seat in parliament; and it seems that, short of a criminal conviction, unethical behaviour of the kind we saw two weeks ago is not legally sufficient for the purposes of impeachment.
Considering also that Gonzi presides over a precarious single-seat majority, Jeffrey Pullicino Orlando cannot be dismissed from the Nationalist Party, without also costing the same party its hold over government. So while it is unfortunate that an otherwise capable and popular politician should find himself in this predicament – a predicament, it must be remembered, that was entirely of his own making – at the same time it is imperative, both for the government's credibility, and for its ability to actually govern - that Jeffrey Pullicino Orlando faces up to his responsibilities, and resigns his seat in parliament.