Only 382 legally employed workers, six per cent of the total number of legally employed foreign workers, come from Sub Saharan Africa, statistics in parliament have revealed.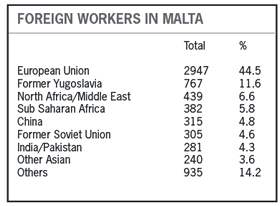 The workers, mainly hailing from the Horn of Africa, include 119 from Eritrea another 95 from Somalia, and generally benefit from humanitarian protection which allows them to seek employment.
The statistics prove that foreign workers from outside the EU outnumber workers from member states, while workers from Africa, mainly derived from recent migration flows represent a minority.
Although they face no entry hurdles, EU workers account for 45 per cent of the foreign workforce, and only 217 hail from Italy – putting to paid fears stoked up by the anti-EU campaign of a "Sicilian invasion".
Although the United Kingdom remains a top exporter of foreign workers to Malta, Serbia follows as a close second with 560 foreign workers originating from the Balkans. People from the former Yugoslavia account for an immense 12 per cent of all foreign workers in Malta.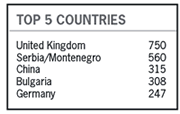 North Africa and the Middle East, another source of foreign labour, provide 7 per cent of the total. In addition, 305 foreign workers hail from the former Soviet Union.
New EU entrant Bulgaria emerges as the second leading exporter of foreign labour from the EU, with 308 working legally in Malta. As an analysis conducted by sister newspaper Business Today last year showed, while EU workers take top-end managerial jobs, immigrants from non-EU countries settle for jobs on the lower end of the scale.
Over 60 per cent of EU workers are employed as senior officials, professionals and technicians, but only 35.6 of those from non-EU countries are employed in these same categories.
EU countries account for 61 per cent of all foreign workers engaged in managerial posts and senior officials, 46 per cent of professionals and 51 per cent of the total number of foreign technicians.
People from the African continent on the other hand, account for 35 per cent of the 328 foreign workers engaged in elementary jobs, with East African countries such as Somalia, Ethiopia, Sudan and Eritrea providing 82 workers in the lowest-paid category.
Non-EU workers, especially from Eastern European countries, prevail in both the services industry and also among foreign trade workers.