Public transport bus drivers are being fined by the Malta Transport Authority (ADT) for allowing foreign students to board their buses, according to Victor Spiteri, president of the Malta Transport Association (ATP).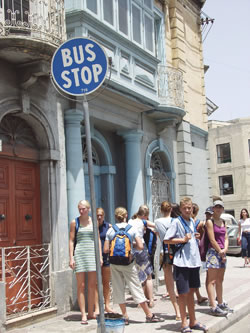 Spiteri said the ADT is demanding that foreign students cannot use route buses and is issuing a citation reporting each bus driver who fails to adhere to these orders.
He said the ATP is willing to present the case to the Maltese law courts. However, the association is preparing its case and is going to take the matter to Brussels.
Spiteri described the law on public transport not allowing foreign students aboard as "antiquated" and "discriminatory", adding that foreigners should have the prerogative to use whichever form of transport they want.
A spokesperson for the transport authority told MaltaToday that bus drivers are being instructed by the president of the ATP to pick up foreign students and provide them with "special routes" – in the form of direct shuttles which bypass the Valletta terminus, for the price of 40 cents instead of the standard 20c trip.
"The yellow buses, which are scheduled routes, are taking the work of unscheduled buses such as coaches, which is not fair," the ADT spokesperson said, adding that the ATP provide certain language schools with a package for their foreign students, where the fare for each student is paid for in advance.
"The only time yellow buses are given a concession to allow foreign students to board their buses are when all private transport vehicles such as coaches and mini-vans are full up. On confirming that supplementary buses are truly required, the ADT issues a permit to public bus route drivers to let foreign students aboard scheduled bus routes," the spokesperson said.
Minister for Roads and Urban Development Jesmond Mugliett said the problem of foreign students and transport is an issue every summer. "Ad hoc routes for foreign students should not be carried out by the ATP because then the service would no longer remain public."
Mugliett said he found no objection to foreign students boarding buses which have departed from a stage and will stop at another stage, however, when public transport buses are being utilised by foreign students, a conflict between scheduled bus drivers and unscheduled bus drivers arises.