| | |
| --- | --- |
| News | Wednesday, 17 February 2010 Issue. 151 | |
Maltese foolhardiness does not help to reduce risk or controversy at events such as Nadur Carnival. But with better organisation, a more clean-cut festivity would have been possible this year. By DAVID DARMANIN.
No doubt Gozo looks better during the winter months: not only because the island's countryside turns richer and greener, but also because the tranquil towns and villages there are less populated by unruly Maltese tourists. The one exception is, of course, Carnival weekend.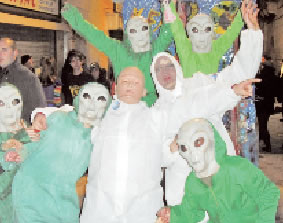 Understandably, the behaviour of thousands of Maltese tourists who flock the streets to take over the Nadurin's traditional Carnival weekend is not always seen in a good light by Gozitans.
As he was opening the doors to his establishment for early tea and pastizzi last Sunday morning, a Qala bar-owner was approached by a dishevelled young man who begged him for a lift to the Mgarr ferries.
"His face was covered in blood, and it was definitely not a mask," the barman told MaltaToday. "He had walked all the way from Nadur after having spent the night out. He was so drunk – he said he had no idea what had happened to him the previous night or even how he got injured."
Passing on some wise advice to his Maltese regular patrons the previous Friday, the same barman said: "If you're after enjoying yourself at the Nadur carnival, go on Monday night, after all the Maltese would have gone."
Spontaneous disorganisation
The Nadur carnival is meant to be spontaneous, as opposed to the Victoria carnival that is 'organised'. However, as the Maltese attendance grew larger over the years, most bar owners in the village decided to shut their main doors on Carnival night. Instead, they set up makeshift bars out on the streets, erect stages close-by and schedule lineups of rock bands to play to masked drunk consumers, many of whom are Maltese.
Some complain about Maltese tourists "using the streets as mobile toilets" during Carnival – but proper mobile toilets were nowhere to be seen. With the exception of a couple of kazini hosting traditional Gozitan folk bands on the night, access to the inside of village bars was closed to regular patrons.
Red Cross ambulances were on standby for emergency services on the night; but when someone did pass out, paramedic volunteers made a failed attempt at rushing the patient through the crowds on a stretcher on their way to the ambulance. Because they all wore red uniforms, the volunteers were mistaken for a group of friends dressed up as some Formula One team for carnival. As a result, and with a genuine emergency on their hands, no one made way for them as was warranted by the circumstances.
Granted: the beauty of the Nadur carnival lies in its spontaneity, but the lack of organisation in managing the larger-than-life crowds last Saturday opened the event to long list of risks.
Views from the stage
The stage set up by the Nadur PN club was the largest, whereon Maltese reggae-glam band Fakawi played for more than three hours on the night.
"I will ask for more security next year," said Fakawi front-man Pawlu Borg Bonaci. "There was a risk of a stampede at a point. People kept climbing on stage and we couldn't control them. When we saw our equipment getting damaged, we had no other option but to push people off. It didn't look good, but the crowd was uncontrollable. We had no other option."
Borg Bonaci said that the incident could have easily been prevented had the organisers "thought of certain things beforehand".
Jean Azzopardi, a Fakawi fan, was the only member of the audience allowed on stage after the clock struck midnight – signalling the start of Valentine's Day. When the clearly agitated fan was handed over Borg Bonaci's microphone he said: "Nadine, I promised you I would do this. Will you marry me?"
She said yes.
On a less romantic note, Borg Bonaci told this newspaper that he was ready to boycott the event, had the police insisted to vet the band's lyrics prior to their performance.
Although not as explicit as some of the emerging Maltese folk and punk bands, Fakawi often alter lyrics of cover versions to nudge authorities over certain social issues.
"I do not think that anyone should be given carte blanche just because it's Carnival," Borg Bonaci admitted, referring to a person who was charged in court for dressing up as Jesus Christ in last year's edition. "In the same way I disagree with crucifixes being placed in classrooms so as not to offend people of other religious denominations, I disagree with people offending Catholic sentiments just to have some fun during Carnival. But that the police asked us for a copy of our lyrics was really stupid, and even more stupid was the way they then retracted from the whole idea. What's next? Are they going to check our underpants too?"
In spite of being commissioned by the PN club, Fakawi wore sashes reading "censored", dark somber makeup, top hats and sported banners reading "iskot" (shut up) and "parlament bil-headphones" (a parliament wearing headphones).
"There are ways and ways of being tongue-in-cheek," he said. "I think we needed to pass on a message, and we made our statement without going too far."
Nadur carnival performers noticed a lower turn-out this year. "I'm sure there was a reason for this," Borg Bonaci said. "But it would be overzealous on my part to determine the real reasons. I know of people who did not turn up because the event is not new to them anymore – but I guess these would be replaced by younger people who attended for their first time. It could also be because of all these restrictions, I don't know... or maybe just because it was very cold. It could also be because there are so many events happening. What I can say for sure is that despite the lower turn-out, and the security mishaps, this was one of our greatest gigs since we've been playing year in, year out in Nadur."
Miguel Debattista, front man of punk band Batteries Not Included (BNI), calculates a drop in turnout of "about 25% this year".
"I cannot indicate the reason why, but I think it's just that people opted to do other things this year," he said.
BNI played last in a band schedule lined up on a smaller stage dedicated to Maltese punk, where preceding band Pupi tal-Loghob, explicit as always in their anti-establishment stance, clearly pointed fingers at church and government for their conservative ways.
"It's Sunday morning already," the Pupi tal-Loghob singer said. "Remember to go to mass… You see what a good message we are conveying – and to think that the police wanted to vet our lyrics…"
The band proceeded to play a punk rendition of the church hymn "Grazzi", tweaking its lyrics into a satirical note that sarcastically thanked government for "rising our water and electricity bills", among other things.
But by the time the punk trio stopped to make way for Debattista's veteran punk band BNI, it was already almost 2am.
"We were asked to stop playing just 20 minutes into our set," Debattista said. "This was not the fault of the police – I think it was more a question of having a long lineup of bands, which inevitably ends up with the last band playing later than its scheduled time. Although we travelled up to Gozo for nothing, and although they could have closed an eye for an additional 15 minutes, it feels like a privilege to be allowed to play at 2am in Gozo, when in Malta as soon as you play after 11pm you're asked to stop."
Regardless, there seemed to have been confusion even on the curfew imposed on the event from the authorities' part. Debattista said that when he spoke to officers at the Nadur Police Station, "they were not exactly sure whether the permit was until 2am or until 4am, although they said that as far as they knew – it should have been OK for the music to go on till 4am."
After the public outcry at the police's decision to arraign a young man for dressing up as Jesus Christ last year, Debattista noted that "I did not see the 100 Jesus Christ impersonators they said there would be after the case last year. I think people were afraid this year, so they didn't overdo it. There were so many dressed up as priests and nuns last year for instance, while I didn't even see one person in clergy outfits this year.


PRINT THIS ARTICLE
---
Any comments?
If you wish your comments to be published in our Letters pages please click button below.
Please write a contact number and a postal address where you may be contacted.

---


Download the MaltaToday newspaper advertising rates in PDF format

European Elections special editions
01 June 2009
02 June 2009
03 June 2009
04 June 2009
08 June 2009